Gamba Castle – Châtillon
A large park and over 150 works of art: paintings, sculptures, installations, photo collections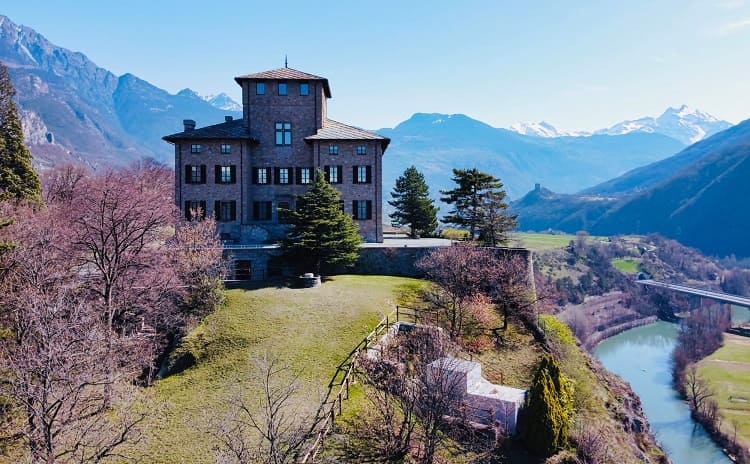 For many years only the park could be visited but, after a long restoration, Gamba Castle, built in the early 1900s, was opened to the public and has become the venue of the Museum of modern and contemporary art in the city of Châtillon.
The MUSEUM
The permanent collection is made of 150 works of art including paintings, sculptures, installations, graphic and photographic collections, belonging to the regional collection going from the end of the nineteenth century until today.
The exhibition route is divided into 13 halls on the first and second floors of the castle; a part of the works is kept in an archive room on the second floor which can only be visited by reservation. The third floor and the roof terrace, inside the central tower of the castle, are dedicated to temporary exhibitions.
Among the works on display there are landscapes by William Turner, Cesare Maggi, Leonardo Bazzaro, sculptures by Arturo Martini, Umberto Mastroianni, Arnaldo Pomodoro and paintings by Filippo De Pisis, Carlo Carrà and Renato Guttuso.
The museum is also the seat of the regional art gallery.
The museum also organizes activities and workshops for adults and children.
The PARK
The castle is surrounded by a suggestive park covering an area of 50,400 square meters between woods, meadows and paths. In the park visitors can find more than one hundred and fifty trees of different species and three monumental trees: a giant California Sequoia, a Bald Cypress and a Honey Locust.
USEFUL INFORMATION
Open all year long.
Opening hours: visit the website>>>
PARK – free entrance
MUSEUM entrance with fees. Tickets can be booked on the website>>>
It is recommended to wear a safety mask and to keep an interpersonal distance of at least 1 meter.
(Photos from the Facebook page of Gamba Castle>>>)
ARE YOU IN VALLE D'AOSTA?
A good occasion to get to know it better.
Discover its territory>>>
See other places or events you can participate in>>>
And taste the typical food and wines of Valle d'Aosta>>>
More Information >>>