Historical Carnival in Saint-Rhémy-en-Bosses
February. Traditional masks and commemoration of Napoleon's passage.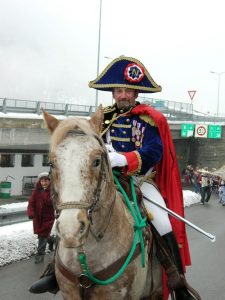 TO BE CONFIRMED IN 2023
The Historical Carnival in Saint-Rhémy-en-Bosses is both a carnival celebration and a historical remembrance. It lasts 3 days, between late February and early March.
It's also one of the Carnival of Coumba-Freida (the territory of Valpelline and Grand San Bernardo Valley) in Val d'Aosta region (Aosta Valley Region)
A very particular parade is surely the on that remembers the passage of Napoleon who passed through San Bernardo's mountain in May 1800 with an army of around 60.000 men.
This episode surprised and frightened so much the valley's inhabitants that it inspired the masks parade which wanders in the streets with customs inspired to the Napoleonic uniforms. The parade is led by Napoleon by horse, followed by the Guide, with the face covered of mustache and sunglasses, who waves the Carnival's banner and play the trumpet.
But traditional characters of the parade in the Historical Carnival in Saint-Rhémy-en-Bosses are many and everyone has a role and a defined custom:
– the Joueurs advance while playing traditional songs with accordions and sax
– the Devil with a red cape with a gold hem full of bells
It represents the bad forces and hits the people with his pitchfork
– the Demoiselles wearing satin dresses with vertical stripes and a tall hat from which long colorful ribbons descend
– the Arlequins who go along with the Demoiselles
– the Dame with velvet dresses and hats decorated with flowers and ribbons
– the Mascre (masks) open the "mask parade". There are black masks who wear black clothes and represent the difficult and dark days during winter. And there are the white masks, that represent the bright spring days and drive away the black masks. They are followed by the Red, Green, Brown, Blu, Pink, Violet masks with clothes covered of pearls and sequins that form floral drawings and with mirrors attached to the hats and jackets to catch the sun rays and push away the evil. The same function has the Gorgoillon, a rattle worn on the hips. On their faces, they wear masks that originally were realized with the cortex.
– the Torque and the Tocca are 2 old spouses and represent an upside-down of the roles in contrast with the real life of the village where the young people are the ones who get married.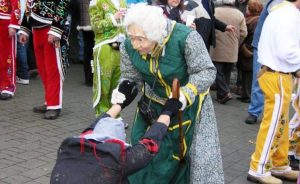 – finally, the Bears arrive while they walk swinging and pronouncing verses. They symbolize the force of nature from which men must defend and fight
– indeed they are accompanied by the Trainer who controls the bears and keeps them on a leash
– the parade is closed by the Doctor and the Curator, two roles that in the past were the most important community (like the pharmacist) because they healed respectively body's pains and those of the soul.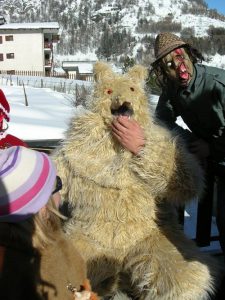 NB.
Visiting the historical Carnival in Saint-Rhémy-en-Bosses can be an opportunity to taste the craft ham Vallée d'Aoste Jambon de Bosses DOP.
To see the other dishes and typical local products of Valle d'Aosta >>>
Photos: from the event's official website

More Information >>>