Mocenigo Palace – Venice
Textiles, antique clothing and accessories, perfumes, and a specialized library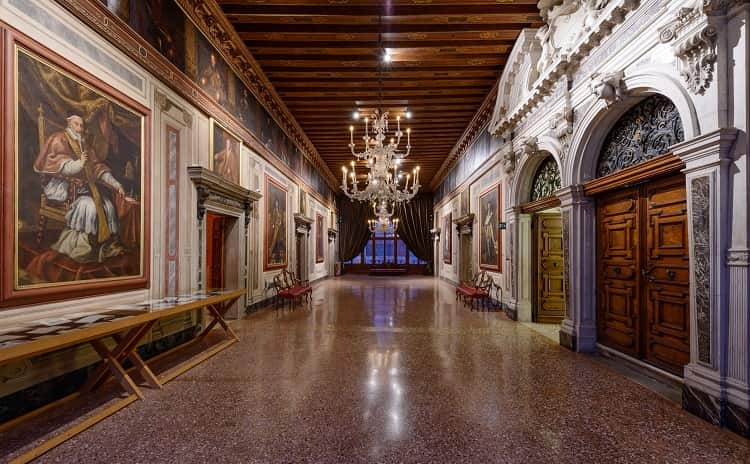 Mocenigo Palace of San Stae, a sixteenth-century building in the heart of Venice, tells the history of fashion in Venice exposing clothes, accessories and fabrics that were used by the Venetian nobility.
The ancient fabrics and clothes on display come from the Correr, Guggenheim, Cini and Grassi collections.
The Palace, along with the archive and part of the furnishings, was donated to the Municipality of Venice in 1945 by Alvise Nicolò Mocenigo, the last descendant of the noble Venetian family, in order to "to complete the Correr Museum".
At the end of the 1970s, after the death of  Costanza Faà di Bruno's (Alvise Nicolò's wife), the first floor frescoed rooms and the eighteenth-century furnishings were also donated to the Civic Museums of Venice.
Since 1985 Mocenigo Palace is housing the Study Center for the History of Textile and Costume,
The museum itinerary is developed on five levels: ground floor, mezzanine, two noble floors, attic.
The rooms evoke various aspects of the life and activities of the Venetian patriciate between the seventeenth and eighteenth centuries and exhibit mannequins with precious antique clothes and accessories belonging to the Study Center for the History of Textiles and Costume.
The building also has a specialized library that is always open, which contains an important collection of over 13,000 figurines from the 18th to the 20th century.
A new section is dedicated to perfume and is hosted in 6 rooms on the piano nobile.
In this section, visitors can find multimedia tools and live sensory experiences that alternate in an unprecedented path of information, emotion and in-depth analysis…
A video illustrates the role of Venice in the history of perfume, a room evokes the laboratory of a sixteenth-century perfumer. Visitors can admire the raw materials and processes for the production of a perfume, the collection of bottles and perfume bottles of the Monica Magnani Collection, made up of perfume holders from different eras, materials, origins and types. Among the rarity, there is also an olfactory map that describes the "Spice Trade" traveled by the ancient Venetians.
On the ground floor, a Multimedia Room, the Perfume Laboratory and the White Room, a space intended for temporary events, are open to the public.
USEFUL INFORMATION
For opening hours, please visit the website>>>
Entrance with a fee
Tickets can be purchased online to avoid queues>>>
It is recommended to wear a safety mask and to keep an interpersonal distance of at least 1 meter.
See also the Facebook page where some figures or dresses from the Museum's collection are regularly presented>>>
IS FASHION YOUR PASSION?
See further museums in Italy dedicated to the history of fashion and costume: clothes, but also shoes and accessories>>>
Photos from the Facebook page of the museum
More Information >>>