Rovigoracconta Festival – Rovigo
2-4 June 2023. Artists, musicians and famous writers. Events also for children.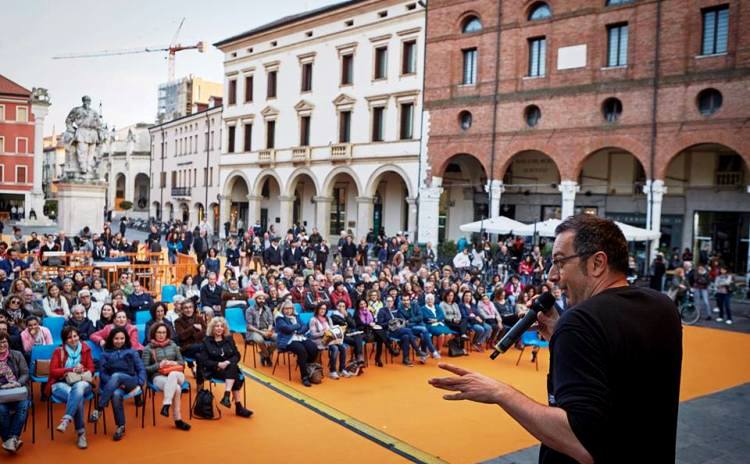 Rovigoracconta ("Rovigotelling"), the cultural festival comes back for its 9th edition in Rovigo, from June 2nd to 4th 2023.
Over 70 artists, musicians and writers fill the streets and the squares of the historical centre of Rovigo. Tens of free entry cultural events and performances.
In 2017, one of the mail italian Newsparpers "la Repubblica" rated Rovigoracconta among the 25 most important cultural festival of Italy, the only event in Veneto that has ever received this recognition.

Among the guests of past editions:
Giovanni Allevi; Paola Barbato; Massimiano Bucchi; Matteo Bussola; Romina Casagrande; Giuseppe Civati; Pino Costalunga; Fabio Cremonesi; Pamela Ferlin; Don Mattia Ferrari; Big Fish; Enrico Galiano; Maria Giovanna Luini; Filippo Magnini; Luca Malin; Andrea Pennacchi; Mariangela Pira; Georgette Polizzi; Tre Allegri Ragazzi Morti; Marinella Rolfart; Andrea Sesta; Massimo Veronese; Alessandra Viola; Sebastiano Zanolli.
To see the program and be updated, go to the website>>> and visit the Facebook page>>>
——
Are you in Rovigo?
See further events and places to see in Veneto>>>
Are you a food lover? Discover more about the traditional cuisine of Veneto>>>
(photos from the official website)
More Information >>>