Shoe Museum – Stra
Over 1500 luxury women's footwear from 1947 until today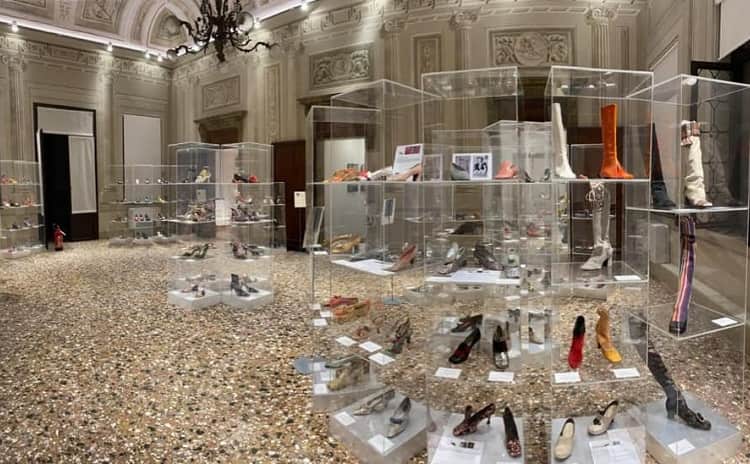 The Shoe Museum is located in the seventeenth-century Villa Foscarini Rossi in Stra, halfway between Padua and Venice, along Riviera del Brenta.
It boasts a collection of over 1,500 models of luxury women's footwear, from 1947 until today.
The Shoe Museum was founded in 1995 by Luigino Rossi, president of the Rossimoda shoe factory, that decided to create the museum in order to celebrate the company's 50th anniversary and to exhibit some prototypes created by the company as well as samples given away by different brands or collected by himself.
The museum shows the entrepreneurial path of the Rossi family, their relationships with the largest fashion brands, and their footwear tradition. It documents also the evolution of the fashion women's footwear in the second half of the twentieth century.
Models by Dior, Yves Saint Laurent, Givenchy, Ungaro, Fendi, Christian Lacroix, Emilio Pucci, Calvin Klein, Céline, Kenzo are exhibited as well as representative pieces of the company particularly interesting from a technical and artisan point of view.
On the ground floor, there are some shoes that are representing the minimalism of American designers such as Donna Karan, Marc Jacobs and Porsche.
The exhibition path enhances the individual fashion houses, with an eye to the stylistic evolution of the "brand" over time. The pieces on display are part of the material stored in the Rossimoda warehouses and each season the collection is enriched with the most representative elements of the new collections.
The Museum also hosts a small collection of Venetian footwear from the 1700s and 1800s and temporary exhibitions, guided tours in historical costumes and organizes customized educational workshops for groups and schoolchildren.
USEFUL INFORMATION
Open only upon reservation
Entrance with a fee
For information and reservations please call +39 049 9801091 or send an email>>>
It is mandatory to wear a safety mask and to keep an interpersonal distance of at least 1 meter.
FROM AUGUST 6TH MANDATORY TO HAVE THE GREEN PASS OR EQUIVALENT CERTIFICATION
IS FASHION YOUR PASSION?
See further museums in Italy dedicated to the history of fashion and costume: clothes, but also shoes and accessories>>>
Photos from the Facebook page of the museum
More Information >>>