Sardinia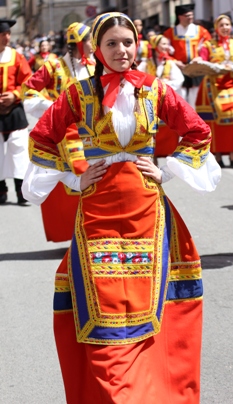 Sardinia – in Italian Sardegna – is one of two islands / regions of Italy. It is very close to Corsica, but very different in culture and landscape.
The regional capital is Cagliari. Cagliari has been Italian Capital of Culture in 2015. Until a few years ago there were only two further provinces: Sassari and Nuoro.
Today the new provinces are: Carbonia-Iglesias, Medio Campidano, Ogliastra, Olbia-Tempio, Oristano.
Sardinia is the second largest island in the Mediterranean Sea and it is separated from Corsica by the stormy "Bocche di Bonifacio".
UNESCO WORLD HERITAGE SITES IN SARDEGNA
"Su Nuraxi" di Barumini (Medio Campidano)
UNESCO INTANGIBLE CULTURAL HERITAGE OF HUMANITY IN SARDEGNA
Canto a tenore (Sardinian pastoral songs)
Discesa dei Candelieri (Descent of the Candlesticks) in Sassari
ART TOWNS IN SARDEGNA
Cagliari
THE MOST BEAUTIFUL VILLAGES OF ITALY IN SARDEGNA
In the Province of Nuoro:
Atzara
Posada
In other provinces:
Bosa – in the Province of Oristano
Carloforte – in the Province of Carbonia-Iglesias
Castelsardo – in the Province of Sassari
Sadali – in the Province of South Sardinia
AUTHENTIC VILLAGES OF ITALY IN SARDEGNA
In the Province of Cagliari:
Orroli
Serri
In the Province of Nuoro:
Arizzo
Austis
Bitti
Bolotana
Borore
Bortigali
Dualchi
Elini
Galtellì
Lei
Loceri
Lodè
Noragugume
Onanì
Orosei
Orotelli
Silanus
Siniscola
Unione Comuni del Marghine
Unioni Comuni Valle del Cedrino
In the Province of Olbia-Tempio:
Aggius
In the Province of Oristano:
Aidomaggiore
Bidonì
Cuglieri
Flussio
Laconi
Masullas
Modolo
Montresta
Neoneli
Norbello
Samugheo
Santu Lussurgiu
Scano di Montiferro
Sennariolo
Sorradile
Unione dei Comuni Planargia e Montiferro Occidentale
Unione dei Comuni Parte Montis
In the Province of Medio Campidano:
Collinas
Sardara
In the Province of Sassari:
Aggius
Banari
Borutta
FAI PROPERTIES IN SARDEGNA
Batteria militare Talmone (Palau – SS – 2003)