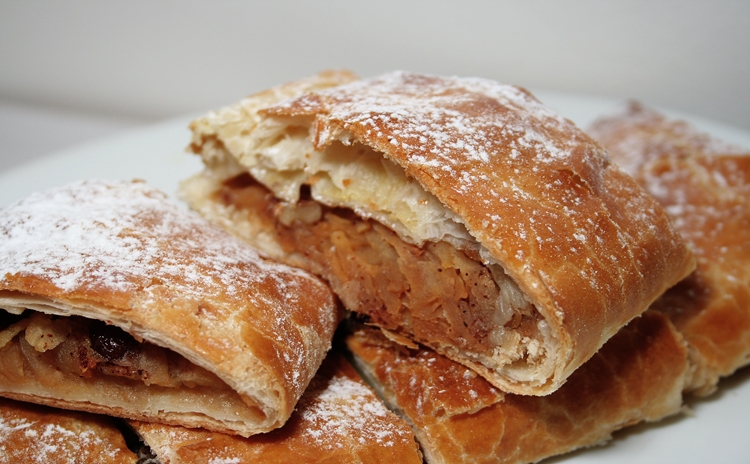 Trentino Alto Adige – Food
Trentino Alto Adige offers tasty dishes in which the Italian style blends with the strong traditional flavors of Central Europe cuisine.
Some famous dishes are: "Canederli" (a sort of bread pasta stuffed with cheese and bacon and cooked in beef broth), goulash (stew spiced meat), polenta pastizzada  (with mutton meat sauce marinated in wine), babagnei (snails) with red wine, smacafam (sausages pie), sauerkraut (fermented cabbage), speck (a sort of bacon), cheese, strawberries, raspberries and, of course, apples, the basic ingredient of the most famous dessert: Strudel. Other desserts are: Strauben (doughnuts with milk, flour, eggs and grappa), Fortaies (doughnuts with currant jam), Zelten (made with dried fruit).
Wines of Trentino Alto Adige, like the Pinot Blanc or the aromatic Gewurztraminer and Sauvignon, are very much appreciated because of their perfumed bouquet. The production includes both sparkling white wines and red wines such as Schiava, Pinot Noir and Teroldego.
8 DOC wines: Lago di Caldaro, Casteller, Teroldego Rotaliano, Trentino, Trento, Valdadige, Valdagine Terra dei Forti and Alto Adige. Another typical product is grappa, an alcholic beverage flavored with fruits and local herbs.
DOC WINES IN TRENTINO ALTO ADIGE:
Alto Adige
Lago di Caldaro o Caldaro
Casteller
Teroldego Rotaliano
Trentino
Trento
Valdagine
Valdagine Terra dei Forti
SLOW FOOD PRESIDIA IN TRENTINO ALTO ADIGE:
Cheeses and dairy products:
Primiero Mountain Botiro
Sole, Rabbi and Pejo Valleys raw milk Casolét
Lagorai Malga Cheese
Aurina Valley Graukäse
Moena Puzzone
Vezzena
Vegetables:
Torbole Broccoli
Bread and baked goods:
Venosta Valley Ur-Paarl
Breeds and animal husbandry:
Villnösser Brillenschaf Sheep
Grigio Alpina Cow
Meat products:
Banale Ciuighe
Wines and grapes:
Trentino Vin Santo
ARK OF TASTE PRODUCTS (SLOW FOOD FOUNDATION) IN TRENTINO ALTO ADIGE:
Cheeses and dairy products:
Cavalese Caprino
Sole, Rabbi and Pejo Valleys raw milk Casolét
Stelvio
Ziger
Vegetables:
Zambana Asparagus
Bondo Turnip
Bread and baked goods:
Cuccalar
Fanzelto
Breeds and animal husbandry:
Piebald Mochena Goat
Pinzgau Cow
Meat products:
Smoked Horse Meat
Figadèti
Trentina Luganega
Non Valley Mortandela
Scorzèta
Spices, wild herbs and condiments:
Alpine Wild Radicchio
DOP PRODUCTS (Italian Protected Designation of Origin) IN TRENTINO ALTO ADIGE:
Cheeses:
Asiago
Grana Padano
Spressa delle Giudicarie
Stelvio or Stilfser
Valpadana Provolone
Moena Puzzone/Spretz Tzaori
Oils:
Garda
Vegetables, fruit and cereals:
Non Valley Apple
Dro Plum
IGP PRODUCTS (Protected Geographical Indication) IN TRENTINO ALTO ADIGE:
Vegetables, fruit and cereals:
Südtiroler Apfel
Meat products:
Mortadella
Südtiroler Markenspeck or Südtiroler Speck
Fish, sea food and fish products:
Trentino Brook Trout
Trentino Trout