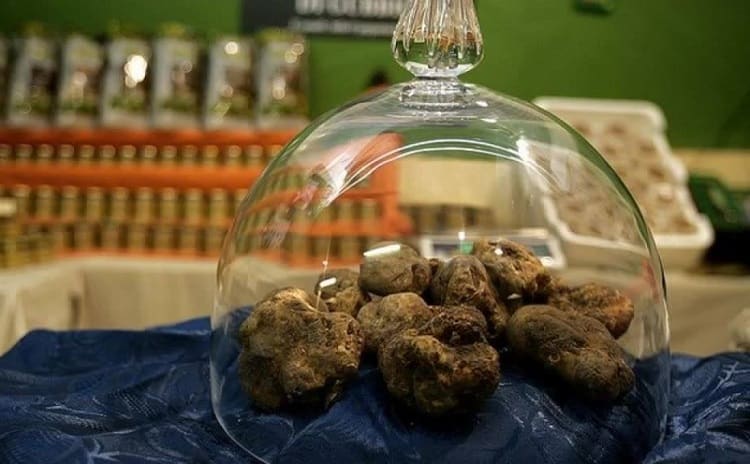 The Truffles in Umbria
The truffle grows spontaneously in Umbria, as it happens in many Italian regions.
The truffle culture and tradition are very strong in Umbria so that truffles are used in many traditional dishes. Furthermore, it has been developed a system of fairs and festivals celebrating truffles, in which truffles are sold, tasted, and protagonists of expert's meetings.

THE TRUFFLE VARIETIES IN UMBRIA
The Black Truffle (Tuber Melanosporum Vittadini) is known also as the Norcia or Spoleto Truffle and is the main quality of truffle that is harvested in Umbria.
It ripens from November to March and grows in the territories along Nera river (discover the cycle path along the river>>>) in Spoleto mountains, Trevi and Subasio mountains, the territories of Corno and Sordo, the half coasts of Spoleto mountains and Martani mountains.
The volume of each piece can vary from that of a walnut to that of an apple.
The rind is blackish or black and wrinkled. Its pulp is purplish-black in color, crossed by thin white veins that become reddish-brown on the sides. It is located at an altitude ranging from 250-300 meters up to 900-1000 meters.
The White Truffle – The highly prized White Truffle (Tuber Magnatum Pico) area is located in the upper Tiber Valley, in the Eugubino Gualdese and in the Orvieto area.
It ripens from October to the end of December, but in some more sheltered areas, it can be found until the end of January.
It grows at a greater depth than other truffles and prefers symbiosis with some higher plants such as poplar, willow, harrier, but also oak, turkey oak and hornbeam.
For size and shape, the white truffle must be regular and rounded.
Its unmistakable aroma and flavor are best expressed on simple foods without sauces or condiments to cover.
In Umbria there are at least seven to eight species of truffles that ripen throughout the year, including
– the Scorzone (Tuber aestivum). It is a black truffle, also called Summer truffle. The term 'scorzone' comes from the characteristic of this truffle which has a rough and warty rind.
Scorzone is an aromatic truffle, with notes of porcino mushrooms and hazelnut, able of giving personality to a great variety of dishes.
–  the Uncinato truffle (Tuber Uncinatum Chatin) also called the Winter truffle.
It has an intense flavor and aroma with notes of hazelnut, porcino mushrooms and parmesan, excellent both raw and cooked, especially on risottos.

THE TRUFFLE FAIRS IN UMBRIA
Would you like to smell the flavor of truffles in a fair?
There are many from June to November. One is also between February and March.
Follow the link to see a calendar of truffle fairs and festivals in Umbria>>>
Photo from Gubbio, Land of Truffle