Tuscany
Tuscany is the northernmost region of central Italy. It is bordered by Liguria, Emilia Romagna, Marche, Umbria, Lazio and by the Tyrrhenian Sea to the east.
Florence is the Region Capital, while the other provinces are Arezzo, Grosseto, Livorno, Lucca, Massa-Carrara, Pisa, Pistoia, Prato and Siena.
Tuscany is often defined as "an epitome of Italy". In fact, it recalls very well Italian lifestyle: art, history, nature, scenery, good wine and good food, seaside and holidays, mountains and forests, and, furthermore, Italian language spoken at its very best.
Each Tuscan city is famous for "something" that makes it unique.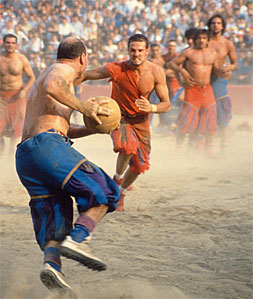 Florence has been European Capital of Culture in 1986.
It is one of the most visited cities by tourists from all around the world, it is a UNESCO site and it's considered the cradle of the Renaissance. It is concentrate of art: the Duomo, Santa Croce Church, Uffizi museum, house of the Birth of Venus and Primavera by Botticelli, the Accademia Gallery, house of Michelangelo's David, Ponte Vecchio, Piazza della Signoria, Palazzo Pitti are just some of the well-known symbols of Florence in the world.
Pisa is the city of the Leaning Tower and Miracle Square (named by Gabriele D'Annunzio). Starting from Pisa you can reach Volterra, famous for alabaster and the Guarnacci Museum, which houses one of the best collections of Etruscan manufacts in Italy.
The beautiful Siena, with its brick buildings, has been Italian Capital of Culture in 2015. Its heart is Piazza del Campo, dominated by Torre del Mangia. Siena is diveded into 17 districts (contrade) that compete twice a year in the famous Palio.
San Gimignano, it's a medieval village considered a UNESCO World Heritage's site.
Pienza was "invented" by Pope Pius II and it's considered the finest example of rational urban design of the Renaissance.
Grosseto is the city of the Argentario, with the well-known villages Porto Ercole and Porto S. Stefano, very appreciated by Hollywood stars, and Capalbio, Ansedonia and Orbetello with its spectacular lagoon, that is part of a natural reserve.
From Arezzo, birthplace of the painter Giorgio Vasari and house of many of its works, is easy to reach the charming Cortona, built by the Etruscans, which today is a very active cultural center.
Prato is so famous for textiles, that it hosts the Textile Museum, the largest museum in Italy dedicated to ancient and modern textile production.
Pistoia has been Italian Capital of Culture in 2017.

UNESCO WORLD HERITAGE SITES IN TUSCANY
Historic Centre of Florence
Pisa: Piazza del Duomo
Historic Centre of San Gimignano (Siena)
Historic Centre of Siena
Historic Centre of Pienza (Siena)
Val d'Orcia (Siena)
Medici Villas and Gardens in Tuscany
Montecatini Terme: the Thermae (2021)
ART TOWNS IN TUSCANY
Florence
Lucca
Pisa
THE MOST BEAUTIFUL VILLAGES OF ITALY IN TUSCANY
In the Province of Arezzo:
Anghiari
Castelfranco Piandiscò
Loro Ciuffenna
Lucignano
Ortignano Raggiolo
Poppi
In the Province of Grosseto:
Capalbio
Giglio Castello
Montemerano
Pitigliano
Porto Ercole
Santa Fiora
Sovana
In the Province of Lucca:
Barga
Castiglione di Garfagnana
Coreglia Antelminelli
In the Province of Siena:
Buonconvento
Cetona
San Casciano dei Bagni
In other provinces:
Montaione – in the Province of Florence
Montefioralle – in the Province of Florence
Montescudaio – in the Province of Pisa
Palazzuolo sul Senio – in the Province of Florence
Populonia – in the Province of Livorno
Scarperia e San Pietro – in the Province of Florence
Suvereto – in the Province of Livorno
FAI PROPERTIES IN TUSCANY
Palazzo e Torre Campatelli (San Gimignano – SI – 2005)
Teatrino di Vetriano (Pescaglia – LU – 1997)
Area costiera sull'Isola di Capraia ( Capraia Isola – LI – 1978)