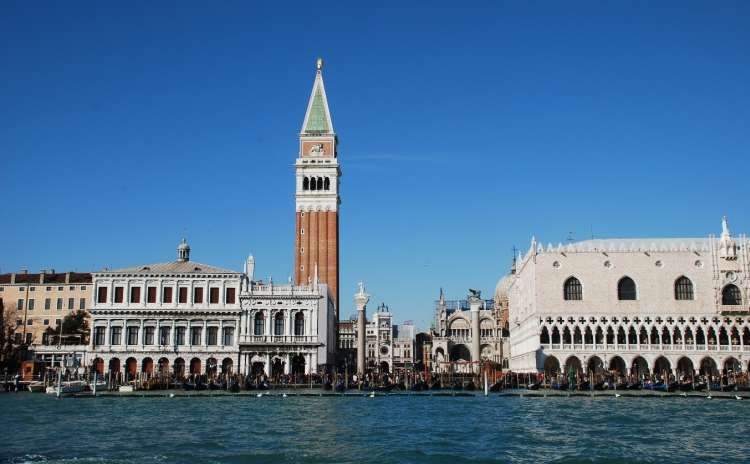 Venice
Canals and "Gondole"
Venice historic center is built on 121 small islands and over 100,000 stilts, with a network of 177 canals crossed by 435 bridges of which only 4 are crossing the Grand Canal: Rialto (the oldest), Accademia, Scalzi, Constitution.
The latter one hs been designed by the famous Spanish architect Santiago Calatrava and opened in 2008.
The Canal Grande (Grand Canal), which bisects the city, is the heart of Venice and the mirror of its ultra millenary greatness . It is lined with dozens of magnificent palaces, some of them considered among the most beautiful in the world. Heavy traffic of gondole (the trditional venetian boat) and "vaporetti" boats used as public bus.
Follow it by boat to get to Piazza San Marco and you'll experience the splendor and the beauty of one of the the most famapus, exciting and unforgettable town in the world.
Campi and Campielli are the equivalent of squares and small squares (S. Marco is the only "square") almost always characterized by the presence of a well, which in the past was the only water supply thanks to rainwater filtration.
Once Campi e Campielli were the social, commercial and religious meeting point where artisans' shops, church and its cemetery were located. The larger "Campi" housed also outdoor events as religious ceremonies, circus shows… The names derived from churches or palaces overlook the squares, or from the activities practiced (as Campo della Lana that means "Wool square").
Typical furhter words of this town, unique in the world, are: calle (street), sotoportego (porch), fondamenta (the road that runs along a canal), riva (landing with stairs), fondaco (warehouse), rio (secondary channel).
To move between channels the famous Venetian boat is the Gondola, symbol of the city. Despite the length of 11 meters (1.50 wide) and it moves easily in narrow channels and canals.
The gondolier rowing standing with a single oar on the right side (Venetian rowing), the hull is asymmetric (more paunchy left) to balance the pressure.
The gondola is built in "squeri", small specialty sites, with 8 wood species and 280 pieces. It takes more than a year. The hull weighs about 350 kg but the gondoliers customize it with luxurious furnishings for personal pride and for the comfort of guests. They are placed up to 6 people. By decree of the Senate of 1609 the color should be black. Today sailing about 500 gondolas in mid '700 were triple.
There is only one female "Gondoliera": Giorgia Boscolo, 25, daughter of a gondolier. It 'the first in history.