Calabria – Territory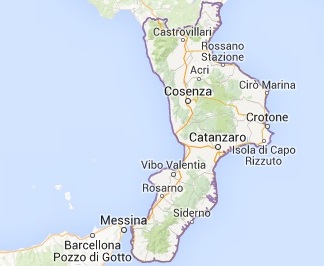 Calabria is a very picturesque region between past and present, between nature and folk traditions. The climate is excellent all year round.
Several protected areas like the Parks of Aspromonte, Sila and Pollino, and many golden beaches like the very famous at Capo Vaticano, boast a pristine nature that blends harmoniously with ancient roots of Magna Graecia.
As an example, Capo Rizzuto Marine Protected Area, the largest in Italy, displays many archaeological finds next to flora and fauna. Riace Bronzes are the most famous, housed in the Reggio Calabria National Museum.
The Coasts offer the chance to perform many sea activities. You can dive with dolphins and sea turtles in the WWF Blue Oasi of Isca rocks, or in Amantea and Belmonte, or discover Costa degli Dei mysterious caves. Fishing is possibile in both coasts.
For those into sports: windsurfing, kite surfing or canoeing or rafting in Lao river or in Sila gorges, or along many rivers in the Pollino National Park.
Calabria offers many interesting caves like the Sant'Angelo Caves , the Nun's cave and the Abyss of Bifurto, one of the forty deepest in the world, perfect for speleology addicted.
Several routes for trekking are available along the Costa Viola, starting at Maesano Falls, with a beautiful view over Aeolian Islands.
Other interesting cities: Locri is an ancient Magna Greece city, founded in the VII century BC. Tropea, it used to be Porto Ercole as the legend says it was founded by Hercules himself. It has a very charming historic center, overlooking the sea. Its beaches are ranked by the Sunday Times magazine among the top 20 in Europe.
Savuto Valley is also very interesting. Savuto is a river flowing at 1,260 meters high. After covering 48 kilometers and traveled through 16 municipalities, the Savuto flows into the Tyrrhenian Sea in the Gulf of Lamezia Terme (Gulf of Sat'Eufemia).
Along the route of the river it is possible to see the remains of some Roman stone bridges.
The most famous is the Hannibal Bridge built by the Romans between 131 and 121 BC. It is said that the Romans then destroyed it to prevent the escape of Hannibal in 203 BC, but that Hannibal rebuilt it to pass its troops.
The road running alongside the Savuto river was in fact the ancient Via Popilia connecting the old Capua to Reggio Calabria.That's why in the valley there are important evidences of the past history.
For example in the Town Hall of Crapanzano, there is a mantle given by Charles V in 1535 to thank residents for the hospitality reserved to him. Charles V also left in Crapanzano some soldiers who stopped to live there.
Among the beauties of the landscape, the presence of many chestnut trees: chestnuts are a typical ingredient of the dishes of the valley.
NATIONAL PARKS IN CALABRIA:
The National Parks of Italy are natural areas of land, sea, river, or lake whose value is a well-preserved ecosystem. Thus their nature, together with their cultural, educational, or recreational values ​​are protected by the Italian Government in order to be preserved for the future.  Currently, in Italy there are 25 National Parks, covering an area of ​​over 1,500,000 hectares (15,000 km²), about 6% of the Italian territory.
Aspromonte National Park
Sila National Park
Pollino National Park

REGIONAL PARKS IN CALABRIA:
The Italian Regional Parks are land, river, lake, and sea areas facing the coast. Their value is being like a system including the nature of the places, art, ​​and cultural traditions of the local inhabitants. The Italian Regional Parks are more than 150 and cover an area of ​​approximately 1million and 500,000 hectares.
Costa Viola Regional Park
Serre Regional Park

NATURE RESERVES IN CALABRIA:
Nature Reserves, also called Protected Natural Areas or Natural Oasis, their mission is to maintain their "equilibrium" by conserving and increasing biodiversity. These areas are characterized by heterogeneous landscapes and they are home to different species of animals and plants. They are the animal's shelter for reproduction. Hunting is prohibited. Actually Protected Natural Areas in Italy are more than 145.
In the Province of Catanzaro:
Coturelle Piccione Nature Reserve
Gariglione – Pisarello Nature Reserve
Poverella Villaggio Mancuso Nature Reserve
In the Province of Cosenza:
Gallopane Nature Reserve
Gole del Raganello Nature Reserve
Golia Corvo Nature Reserve
I Giganti della Sila Nature Reserve
Iona Serra della Guardia Nature Reserve
Macchia della Giumenta – S. Salvatore Nature Reserve
Serra Nicolino Piano d'Albero Nature Reserve
Tasso Camigliatello Silano Nature Reserve
Trenta Coste Nature Reserve
Argentino River Valley Nature Reserve
River Lao Valley Nature Reserve
In the Province of Vibo Valentia:
Cropani – Micone Nature Reserve
Marchesale Nature Reserve

MARINE PROTECTED AREAS IN CALABRIA:
Marine Protected Areas or Marine Reserves are stretches of the sea where sport fishing, professional fishing, scuba diving, the entry with motorboats, motorcycles, cars are prohibited or limited. And the abandonment of waste on the beaches is severely punished. The typology of these areas varies according to the protection constraints. There are more than 25 Italian Marine Protected Areas, covering an area of ​​approximately 222,442 hectares of sea.

UNESCO BIOSPHERE RESERVES IN CALABRIA:
Unesco Biosphere Reserves are areas representing important land, sea, coast ecosystems in which the conservation of its biodiversity is associated with the sustainable use of natural resources for the benefit of local communities. The worldwide network of Biosphere Reserves includes 669 reserves in 120 countries on five continents, of which 16 Biosphere Reserves in Italy.
Sila National Park

UNESCO GLOBAL GEOPARKS IN CALABRIA:
Unesco global Geoparks are natural areas of particular geo-mining interest representing the 4,600 million-year history of Planet Earth and the geological events that have shaped it. Geoparks' mission is to increase knowledge about the value of geo-diversity and to promote the conservation, tourism, and the popularization of the geological heritage. More than 100 Geoparks (Global Geoparks) are recognized worldwide in 33 countries, of which 69 in Europe. In Italy, there are 10 Unesco Geoparks.
Pollino National Park

WWF NATURE RESERVES IN CALABRIA:
The WWF Oases are the first Italian network of protected areas managed by a private association. WWF activities in the Oases range from ecotourism to nature holidays, education, training, and environmental information programs. There are more than 100 WWF Oases in Italy, covering more than 30,000 hectares of land in 18 regions. They are visited by more than 500,000 people a year.
In the Province of Vibo Valentia:
Lake Angitola

BLUE FLAGS IN CALABRIA:
Blue Flag is an International recognition reserved for lakes or seaside tourist resorts that comply with sustainable land management criteria. The Blue Flag is awarded annually by the non-governmental and non-profit organization "Foundation for Environmental Education" (FEE). Only the localities whose waters have been excellent in the previous season can apply. In 2020, more than 195 municipalities and over 407 Italian beaches have been awarded as "Blue Flag".
In the Province of Cosenza:
Praia a mare – Camping Internazionale/ Punta Fiuzzi
Trebisacce – Lungomare sud [Riviera dei Saraceni, Viale Magna Grecia, Riviera delle Palme]
In the Province of Crotone:
Cirò Marina – Cervana / Madonna di mare, Punta Alice
Melissa – Litorale Torre Melissa
In the Province of Reggio Calabria:
Roccella Jonica – lido

ORANGE FLAGS IN CALABRIA:
Orange Flag is a tourism-environmental quality mark awarded by the Italian Touring Club to small towns in the Italian inland (maximum 15,000 inhabitants) which stand out for their quality hospitality. The Orange Flag has been awarded to over 200 Italian municipalities.
In the Province of Cosenza:
Civita
Morano Calabro
In the Province of Reggio Calabria:
Bova
Gerace