Italian Museum of Cast Iron – Longiano
A collection of cast iron items and street furniture from the 1800s onwards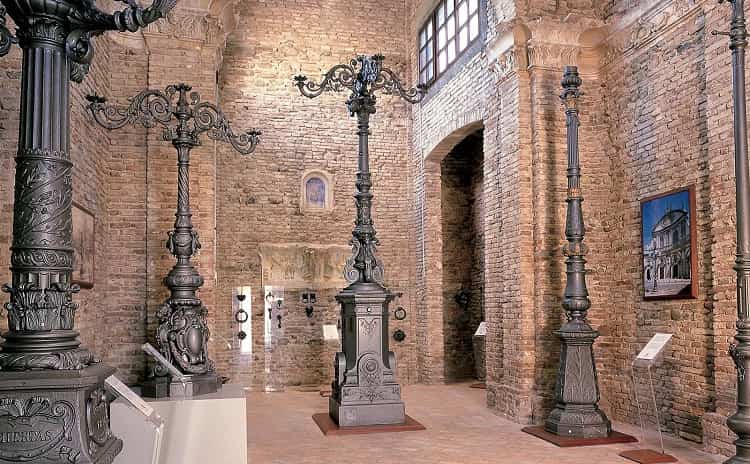 The Italian Museum of Cast Iron (MIG) is located in Longiano in the province of Forlì-Cesena and it is located in two different sites: in the center of Longiano and on the Via Emilia, near Ponte Ospedaletto.
The museum in Longiano is located in via Santa Maria in the fascinating eighteenth-century church of Santa Maria delle Lacrime where some of the most significant examples of the collection are exhibited, such as the sumptuous cast iron candelabra wonderfully enhanced by the color of bricks on the walls.
On display there are artistic and splendid street lamps coming from important Italian cities such as Turin, Bologna, Vigevano, and also European ones such as Dublin and Vienna.
Some items have a close relationship with water, such as a model of a column fountain of Austrian origin, and the splendid anthropomorphic or animal-shaped masks from which sparkling water originally flowed.
Furthermore, it is possible to see a rich collection of door knockers and interesting photographs related to the objects presented in the museum: old and recent photos, historical postcards, pages of catalogues documenting different elements or specific details.
The largest site is located on Via Emilia (ss. Emilia, 1626) and it takes up a large industrial space that previously was the Neri company's painting area. The exhibition itinerary includes about sixty street lamps produced by important nineteenth-century foundries and in some cases signed by renowned artists such as Duilio Cambellotti and Ernesto Basile.
Alongside the lamp posts are a hundred items that once embellished public places such as benches, fountains, railings and brackets, as well as door knockers.
In addition, there is a rich material explaining the cast iron processing: the design, the engraving work, the creation of the model, and the processes leading up to casting.

CAST IRON FURNITURE AND ARCHITECTURE
Throughout the nineteenth century, up to the early decades of the twentieth century, cast iron was used as an important complement for architecture and as a tool for making public spaces more functional and more pleasant.
The Italian Museum of Cast Iron was established to recover and offer public some products of material culture that marked an era and with it a particular way of designing and living urban spaces.

USEFUL INFORMATION
Opening hours:
Different opening hours for the two exhibition sites.
Church of Santa Maria delle Lacrime
via Santa Maria 18 / a – Longiano
Saturdays, Sundays and holidays
– from October to May in the afternoon from 2.30pm to 6.00pm
– from June to September from 3.00pm to 6.30pm
Visits upon appointment by calling the Neri Foundation +39 0547 652171/652172 or the Municipality of Longiano +39 0547 666457/665484
MIG – Italian Cast Iron Museum
c / o Neri spa – Strada Statale Emilia 1671 – Longiano, Ponte Ospedaletto area
– Tuesday, Wednesday and Thursday from 9.00am to 4.00pm
– Monday and Friday from 9.00am to 12.00pm
– closed in August
For more information please call +39 0547 665484
Photos from the Facebook page of the museum
ARE YOU INTERESTED IN THEMED MUSEUMS?
Italy has a heritage of curious museums created with passion by their founders, Have a look at a selection of curious museums throughout Italy >>>
More Information >>>