Giostra della Quintana – Foligno
13 September 2020. Medieval tournament between the city's ten districts.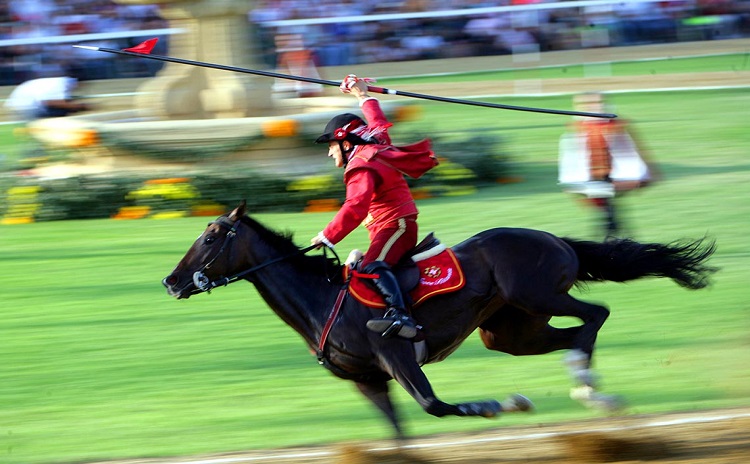 Access to the Field
Scattered access to a maximum number of participants.
MASK is mandatory,
Rules for Taverns
The taverns in the city observe the safety measures regulations laid down for restaurants: social distancing, hand sanitizer, MASK is mandatory during service.
The Historical Parade taking place usually on Friday is cancelled in 2020.
________
Giostra della Quintana is a medieval tournament between the 10 districts of Foligno.
It usually takes place twice a year: the Sfida("challenge") in June, and the Rivincita ("rematch") in September introduced, the first Saturday of September, by the Baroque White NIght.
This year, the Challenge event takes place just ones on Sunday, September 13th, 2020.
But for two weeks before the Giostra (from August 27th, 2020) the 10 taverns of the 10 districts will stay open and it will be possible to taste many traditional recipes of the 17th Century cuisine, prepared with products grown in the Foligno area.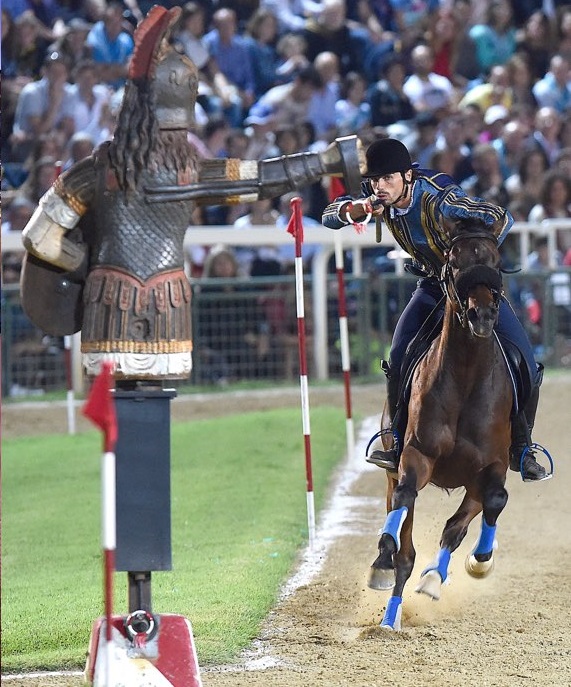 The goal of the competition is to ride around the track of the ancient Foligno stadium (Campo de li Giochi) as quickly as possible, trying to insert the lance into a ring hanging from a statue of Mars (the so-called "quintanone") without getting any penalties. The ring becomes smaller every time: 8 cm, 6 cm and 5 cm.
The first Quintana dates back to 1448.
The modern version of Quintana is dated 1946.
NOTE
In 2020 the Friday Historical Parade featuring 800 extras wearing baroque costumes animating the streets of Foligno will NOT take place
More Information >>>