Prosecco Cycling – Prosecco Hills
October 3rd 2021, on the Prosecco Hills. Rewards to the fastest and the slowest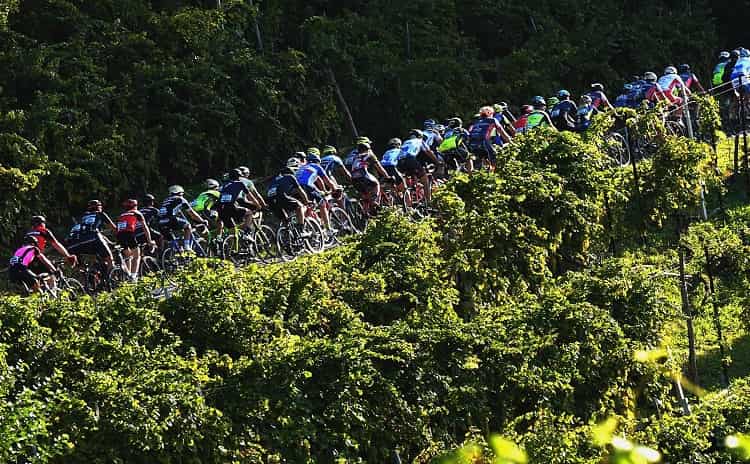 On October 3rd, 2021, takes place the 18th edition of Prosecco Cycling, an individual and team amateur cycling race in Treviso area.
Over the years, cyclists from over 30 countries have participated and over 1,000 cycling enthusiasts participate every year.
The route winds for 100 km on the Prosecco Hills and passes through the cities of Conegliano, Valdobbiadene and the whole Prosecco Superiore DOCG area.
Make way for the slowest! – In addition to the usual rankings, Prosecco Cycling offers the new special "4.10" which rewards the slowest teams on the three timed climbs: Ca 'del Poggio, Via dei Colli and Collalto.
It is a challenging track with a rise of 1600 vertical meters in the middle of the vineyards declared a World Heritage Site.
Each member of the winning team "for slowness" will receive an emblematic black jersey, a large supply of Conegliano Valdobbiadene Prosecco Superiore Docg and a "sopressa", the typical salami of the Treviso tradition, in giant size.
About the other two team rankings, one rewards the teams capable of placing the highest number of cyclists (minimum ten) across the finish line within 30 ", enhancing team compactness. The other, called Fun Team, rewards the group (made up of men and women) who set the best time on the entire route.
The Tiramisu Taste Event – The 2021 edition of Prosecco Cycling coincides with the "Tiramisù Taste Event", a great food event for the famous dessert of Treviso origin.
So the day will also be an opportunity to discover the typical dishes of the Treviso area.
Registration for the 2021 edition opens from Wednesday 7 April. Reduced fees for team memberships.
Photos from the Facebook page of the event

2021 – PLEASE CHECK THE FACEBOOK PAGE TO VERIFY POSSIBLE CHANGES OF PROGRAM
More Information >>>