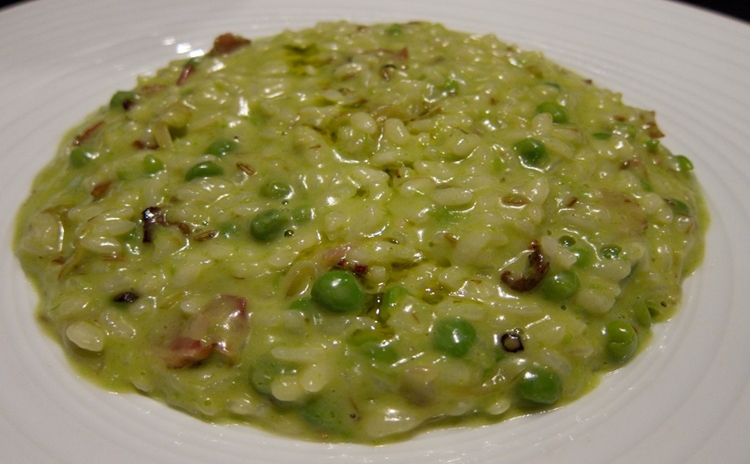 Risi e Bisi
The Venetian cuisine offers a copious contribution of recipes from different sea località.Pietanze, plains and mountains with expressive reminiscences of countries and distant realities. Kitchen which among its features a good assortment of dishes potages rice. Soups, rice soup and risotto in several variations, with ingredients blunt or glitzy. From mild rustic grass up with scampi aristocrats. Some say that white corn is born in water and then capitulate in the wine! So then, thanks to a genuine wine and a superb quality of rice, materializes a delicious combination for more than a few to tickle the palate. With regard to wines from Veneto, of various types and prerogatives, they are characterized by quality and exuberance.
Valuable agrifood products, quality ingredients and thick, nevertheless, splendid wines, make the winding Venetian cuisine and a harbinger of curiosity. Among the many dishes that see the rice as indisputable protagonist – is to evoke for their exquisite rice and peas, – prepared throughout the year, and especially on April 25, the day paid tribute to St. Mark, patron saint of the city of Venice. The recipe is accessible to experts and novices, provided to execute the process carefully. The ingredients are: rice Vialone Nano, peas, lean bacon, butter, vegetable broth, onion, parsley, Parmesan cheese, salt and pepper to taste. Sauté the onion in the butter, pancetta and parsley cut evenly.
Next, incorporate peas comforted by a ladle of hot broth prepared in advance. Once cooked, put aside about half. Add the rice and peas in a saucepan (80/90 count g. Per diner) and start cooking adding the broth a little 'at a time. At the end, sit with salt, add the peas previously "set aside" and stir * with butter and Parmesan cheese. The risotto must present wave * – so soft. Serve in shallow dish or baking dish (not the bottom) with parsley decoration elargirà color to the risotto, without doubt, one of the most popular of our regional cuisine.
Stir: cooking terminology. When cooked, the risotto should be creamy. Procedure: lower the heat, add fresh butter in a reasonable amount (sometimes extra virgin olive oil), sprinkle with Parmesan cheese and adjust salt sparingly. All this with the precious aid of a wooden spoon. Vigor and enthusiasm are essential during this phase. After shuffling diligently, turn off the heat, let stand for a few moments, and serve.
Wave: cooking terminology related to the risotto. So soft, creamy, soft, delicate. To do this, always leave a little 'hot broth by, in order to impart to the risotto the exact consistency.
Rice and peas and … wine: as above, the rice establishes a "mariage" exhilarating with wine. The rice and peas match well with a White Euganean Hills, a Breganze White or Collio Pinot Grigio. And then … with many other wines from Veneto, always wink wink to quality and fundamental moderation, always wise behavior of every true gourmet.