Path of Seven Stones – Lucanian Dolomites
Live a journey and a legend between Pietrapertosa and Castelmezzano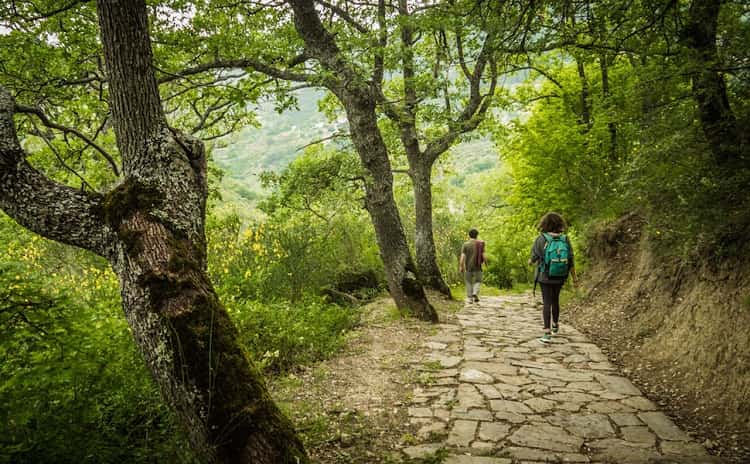 The Path of Seven Stones is an ancient peasant path of about 2 km connecting the villages of Pietrapertosa and Castelmezzano in the so-called Lucanian Dolomites, in the province of Potenza.
About the path there are many tales handed down orally and ancient legends of the "masciare", as the wood witches were called, who gathered at night to dance under a tree and then fly away on a white dog.
The path takes its inspiration from one of these legends, telling the unfortunate love story between a man and a witch. It is divided into seven chapters or stages that put together the legendary history: destiny, magic, witchcraft, witches, flight, dance, delirium.
In each of the seven stages, huge stone sculptures (the seven stones, indeed) have been installed which become the voices and sounds, the narrations and music of the story as the visitor passes by, immersing themselves in the magical atmosphere of ancient and mysterious Lucania. The evocative suggestion is great.
The Path of Seven Stones crosses an uncontaminated and wild territory on variable tranches: it goes from 920 meters in Pietrapertosa, down to 660 meters in the valley of the Caperrino river and goes up to 770 meters in Castelmezzano. It is accessible to all but it is advisable to face it calmly and slowly to enjoy the landscape and be carried away by the emotions of the legend.
Photos from the official website and Facebook page
ARE YOU IN BASILICATA?
To enrich the experience, visitors can take a detour to see and cross the exciting Nepalese Bridge, or try the fantastic and thrilling Flying Angel where, instead of walking, people can "fly" between Pietrapertosa and Castelmezzano.
See other places to visit and other events to attend>>>
Do you know the traditional food of Basilicata? And its excellent wines?
More Information >>>