Regional Museum of Ceramics – Deruta
The oldest Italian museum dedicated to ceramics. Open all the year round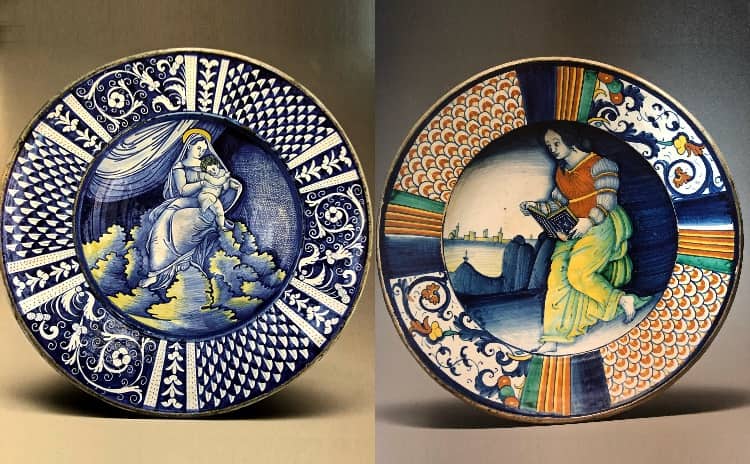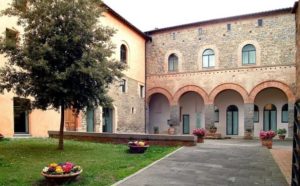 The Regional Museum of Ceramics in Deruta is the oldest Italian museum dedicated to ceramics. It was established in 1898 and holds over 6,000 works. It is located in Saint Francis Convent, in the historic center of Deruta.
Six thousand ceramic works represent the museum collection distributed in a exhibition path from a medieval Deruta to contemporary ceramics, with thematic records dedicated to the production of Renaissance floors and pharmacy kits. The production of the fifteenth and sixteenth centuries, as the museum documents, show potters and painters from Deruta as part of the Italian Renaissance art.
A specific section on techniques and manufacturing processes is dedicated to luster decoration, a technique that has made Deruta famous all over the world, and its works, preserved in over one hundred museums, are immediately recognizable.
What makes this museum unique is, above al,. the presence of a four-storey metal tower that communicates on all levels with the convent and is employed as storage.
A structure filled with over 4500 ceramics in glass shelves, always accessible to the public.
An underground tunnel connects the museum to the ancient furnaces. In 2008, an underground tunnel was found that connects the Ceramics Museum to an archaeological area of ​​kilns (called Saint Salvatore) which also includes a section of the medieval walls from the late thirteenth century. In other structures datable between the end of the thirteenth century and the beginning of the eighteenth century, a remarkable number of ceramic finds have been recovered.
The history of the convent is intertwined with the life of the city.
The convent, quite certainly founded in 1008 by Benedictine monks, was initially dedicated to Saint Maria de 'Consoli, and then passed to the Franciscan friars minor. In the fourteenth century the convent was dedicated to Saint Francis of Assisi and, as documented in the Statute of Deruta of 1465, fully entered the civil and religious life of Deruta.
USEFUL INFORMATION
Opening hours: please check the website>>>
Entrance with a fee
It is recommended to wear a safety mask and to keep an interpersonal distance of at least 1 meter.
Photos from the Facebook page of the museum
AND AFTER THE VISIT?
See other places to visit and other events to attend>>>
But what can you eat in Umbria? Discover the traditional food>>> And what are the local best wines?>>>
More Information >>>