Tibetan Bridge – Castelsaraceno
The longest Tibetan bridge in the world: 586 meters long and 80 meters high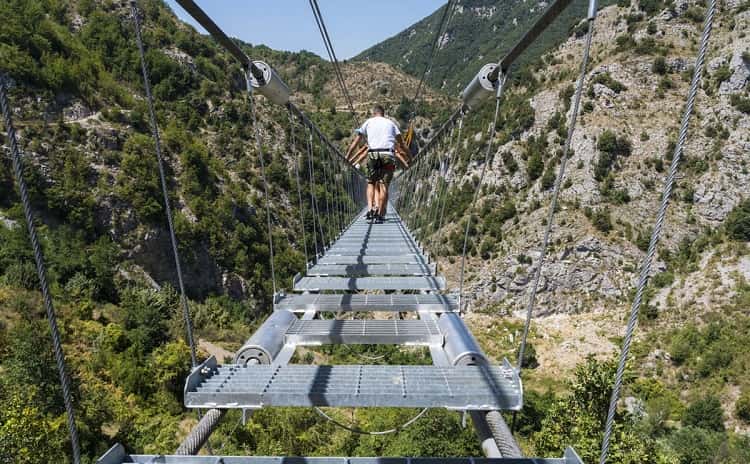 The Tibetan Bridge of Castelsaraceno, in the province of Potenza, is the longest Tibetan bridge in the world with 586 meters in length.
It is built 80 meters above the ground, in mid-air over the canyon crossed by the Raganello stream and it is also known as "the bridge between the two parks", as it is connecting the Pollino National Park with the Appennino Lucano Val d'Agri Lagonegrese National Park.
Inaugurated in 2021, the Tibetan bridge is a great attraction where visitors can immerse themselves in the pristine Lucanian hinterland, between the beautiful city of Matera with its "Sassi" and the sea of ​​Maratea on the Gulf of Policastro.
An impressive piece of engineering and an absolutely unique experience, to be crossed at a slow pace and suitable for everyone.
CASTELSARACENO
Castelsaraceno is known as the heart-shaped hamlet or the hamlet between the two parks. Built-in 1031 by the Saracens as a lookout, it was destroyed about ten years later by an earthquake. After being abandoned by the Normans, the Basilian monks transformed it into a thriving farmhouse.
USEFUL INFORMATION
Visit with a fee
Opening hours vary throughout the year
For information and reservations, please visit the website>>>
Photos from the website
ARE YOU IN BASILICATA?
The bridge between the two parks is located near Castelmezzano and Pietrapetrosa where you can try the fantastic and thrilling experience of the Flying Angel and "fly" in total safety among the Lucanian Dolomites.
And strolling along the Sassi di Matera, why not stop by Casa Noha, an immersive journey to discover the history of Matera.
More Information >>>