100 Globes in Piazza Duomo – Milano
27 August-7 November 2021. 100 recycled plastic globes for a sustainable future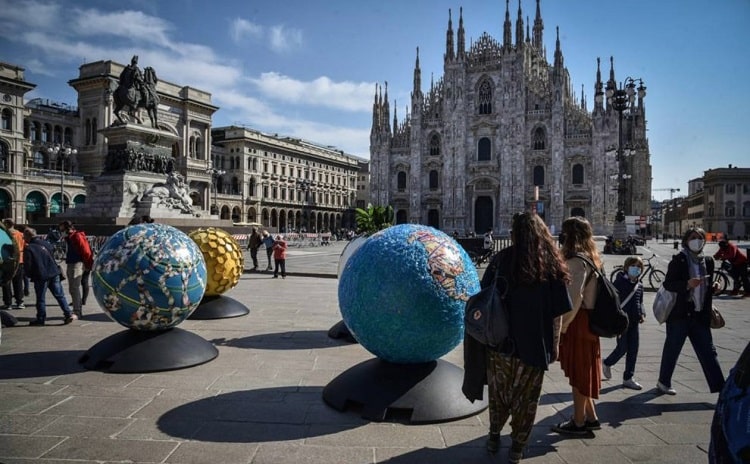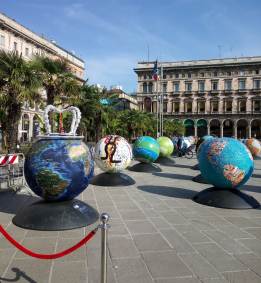 After the spring preview in April, from August 27th to November 7th 2021, Milan hosts 100 Globes in Piazza Duomo, an event of scattered art sponsored by the Municipality of Milan, Lombardy Region and the Ministry of the Environment to raise awareness among citizens on the issues of climate change and plastic pollution.
100 recycled plastic globes created by young artists and established designers will be arranged in the main streets and squares of Milan. The globes intend to promote the issues and the goals of sustainable development dictated by the UN Agenda 2030 about the urban environment, preservation of life on land and below water; human migration, clean and accessible energy; zero hunger, circular economy.
Well-known designers attend the event, such as Giulio Cappellini and Antonio Facco who signed the "Milano è bella"( "Milan is beautiful") installation  dedicated to the city, Michele De Lucchi, co-author of "Pangea Mondo cucito" ("Pangaea sewn World"), a globe inspired by the theory of plate tectonics created in collaboration with iSemprevivi non-profit organization.
At the end of the event, the 100 globes will be part of a charity auction organized by Sotheby's and the proceeds will be donated to ForestaMi, Parco Segantini ONLUS Association, Niguarda Hospital, the Umberto Veronesi Foundation and the Arca ONLUS Foundation which operates in support of poor people for assistance and integration.
Cover photo and above from the Facebook page of the association
In-text photo by Martina Pingi