Museum of Illusions – Milan
A fun science experience that tricks our confidence in senses. Open all year long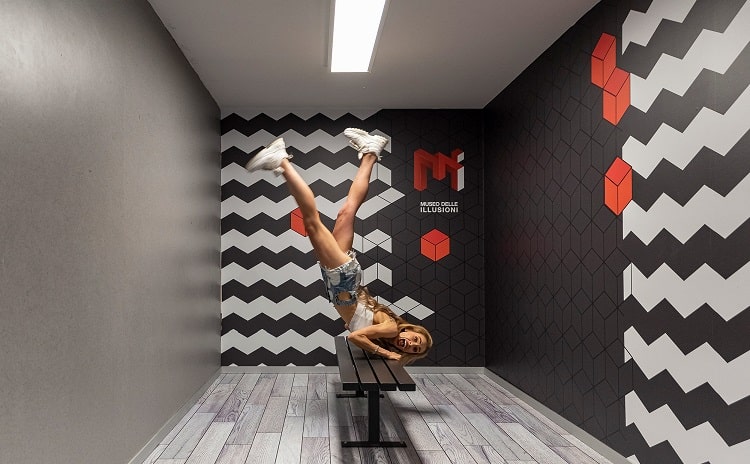 The Museum of Illusions in Milan is located in the Central Station area and includes more than 70 attractions that tricks our confidence in senses.
Designed first for children and teenagers it is also interesting for adults who want to have fun with science.
The Museum of Illusions is halfway between an interactive museum and a playground.
The exhibition features a series of holograms, optical illusions and installations that continually remind us that our beliefs about the perceived world are often nothing more than a spectrum of illusions.
Among the installations of the museum:
– the Vortex Tunnel makes visitors believe they are struggling to take a step forward through a rotating cylinder,
– the Upside Down Room and the Infinity Room, where visitors have to 'resist' the laws of gravity and the size ratio,
– the room in which it seems to rotate on itself,
– the giant and the dwarf one that gives the illusion of growing or shrinking at will.
And many optical illusions that conceive the eyes and the brain …
There is also a Playroom that offers intriguing and instructive games and puzzles.
The double purpose of the museum is to give fun, but also to make people aware of new things about perspective, science, math, biology, psychology and much more.
USEFUL INFORMATION
The museum is open 7 days a week
– Monday to Thursday: 10am to 8:30 pm
– Friday to Sunday: 10am to 9pm
Admission with a fee>>>
It is recommended to wear a safety mask and to keep an interpersonal distance of at least 1 meter.
Follow the Facebook page of the museum
Photos from the official website of the Museum of Illusions
ANOTHER VISIT FOR CHILDREN?
Another interesting visit for children and teenagers is the Prehistoric Park in Rivolta d'Adda, just 25 km away from Milan. The largest reconstructions of life-size dinosaurs, a diorama with the ages of Earth, a museum and a botanical path in a​​100-hectare park. Open from March to mid November>>>
DO YOU WANT TO KNOW FURTHER INTERESTING MUSEUMS?
See a selection of Theme Museums throughout Italy>>>
More Information >>>