Il Santuario – Pietrabbondante
Roman archaeological site in the Province of Isernia.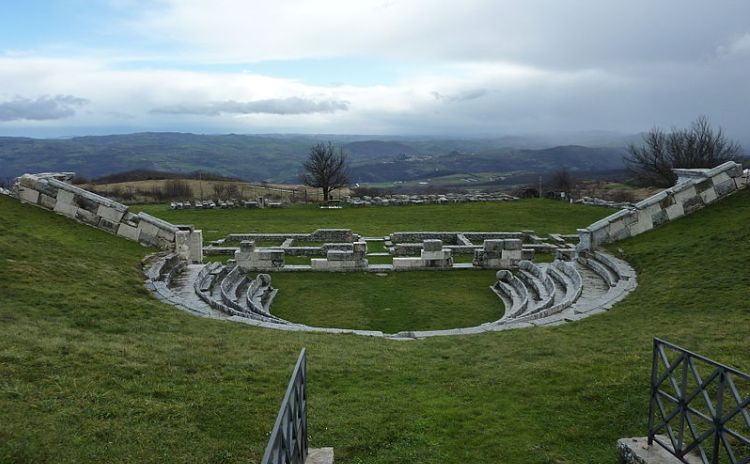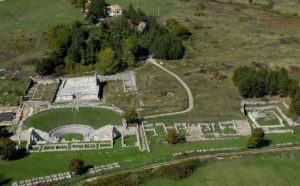 The Theater and Temples of Pietrabbondante, a municipality in the Province of Isernia, are located on Mount Saraceno in a Roman archaeological site called Il Santuario (The Sanctuary), one of the most visited places in Molise.
The theater was built in the 2nd century BC, and it's divided into 6 semicircular sectors. It is estimated that it could accommodate about 2,500 spectators.
The two archways, one for each side of the stage, are well-preserved, and the stone blocks used for the productions can be seen, as well.
Every semicircle has several squared blocks with built-in backrests, that used to be seats.
The last steps, decorated with griffin paws, were reserved for the city's most important and influential people.
Temple A, which has one cella, is built on a small terrace and is accessible through a central ramp. The building is surrounded by an ambulatory, bordered by a containment wall, and preceded by a paved area with the altar.
Temple B is lined with porticoes, and preceded by a colonnade and a terrace with the altars.
The remaining Doric decorations on the frieze of the cellae's walls and eaves, include Satyr and Maenad heads, and a goddess (probably Victoria, to whom the temple is dedicated).
On the western side, an inscription reminds visitors that the podium was (probably) financed by a samnite magistrate who sided with Sulla in the civil war.
USEFUL INFORMATION
For information about opening hours and tickets check the website>>>
It is recommended to wear a safety mask and to keep an interpersonal distance of at least 1 meter.
In winter, reduced opening hours
(photos: Wikipedia)
ARE YOU IN PIETRABBONDANTE?
in Isernia there is the Civic Museum of Memory and History>>>