Chimney Sweep Museum – Val Vigezzo
In Val Vigezzo open up to early November. The just one museum dedicated to this job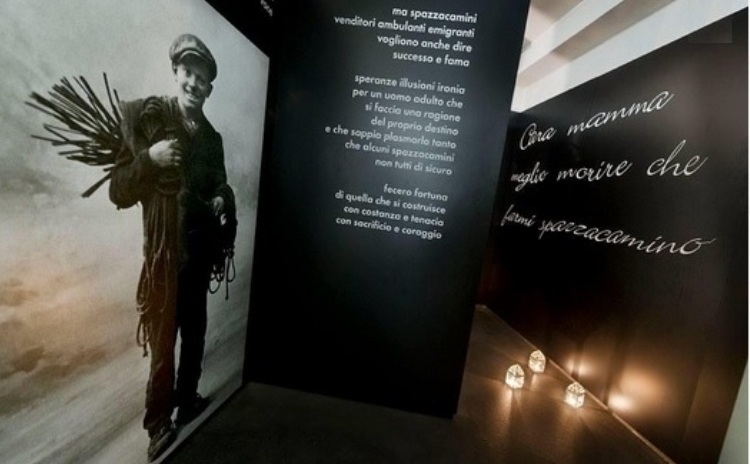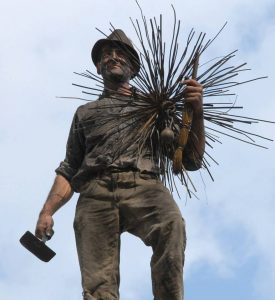 The Chimney Sweep Museum is the only museum in Italy dedicated to this historic job.
It is located inside of the Park of Villa Antonia in Santa Maria Maggiore in Valle Vigezzo, in the province of Verbano-Cusio-Ossola (Piedmont).
Inaugurated in 1983, the Chimney Sweep Museum was founded to preserve the memory and to spread the history and the work of the Italian chimney sweeps that emigrated to do their job.  
The chimney sweep's job has been a very important one. Since the 14th century cleaning the chimneys was absolutely necessary to prevent the fire of the chimneys. And in this area, many young people decided to become a chimney sweep in order to earn some money.
The Chimney Sweep Museum is hosted in a mansion, which in the past was a residence of painters and goldsmiths. The creation of the museum has been possible also because the chimney sweeps of Val Vigezzo were out of their home for the whole winter, but they were used to come back during the summer with their tools and their stories to tell to their families.
Inside the museum, the visitors are involved in a multisensorial and interactive itinerary that helps them to discover the history of the chimney sweepers that marked so much the life of Valle Vigezzo inhabitants for centuries so that in some maps of the Alpes in 1548 was defined as the Valley of the Chimney Sweeps.
The museum is showing also the emigration of the 14th century towards the Northern European countries, and the child exploitation that lasted until the 1930s.
Museum structure: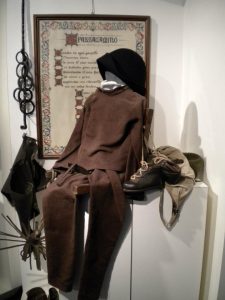 At the ground floor tools, clothes, paintings, and objects are displayed that represent and recreate the history of the chimney sweeps.
In a big showcase, there are the objects that the chimney sweeps from all over the world, gave to the museum in the occasion of the International Festival of the Chimney Sweeps that is celebrated every year at the beginning of September: chimney stacks made in terracotta and in different shapes and sizes, vintage heaters, glass windows and signs of old shops opened by the chimney sweeps in Holland or in Germany, white and black photos of the first years of 19th century.
The Museum is managed by Associazione Nazionale Spazzacamini, founded in the '80s with the task to preserve the traditions of the chimney sweep's job.
In collaboration with Santa Maria Maggiore Municipality and Pro Loco, the association is also the planner of the yearly International gathering of Chimney sweep.
The children visiting the museum can realize the reality of the chimney sweeps that were in the movies such as Mary Poppins, one of the most famous movies that introduced better the chimney sweep's job to the generations who had never heard about them…
The Chimney Sweep Museum is usually open from March to end October/ Early November and during the Christmas holidays.
USEFUL INFORMATION
Opening hours:
– from March to mid-September: every day, from 10am to 12pm and in the afternoon from 3pm to 6pm, closed on Mondays
– from mid-September to early November: Saturday and Sunday, from 10am to 12pm and in the afternoon from 3pm to 5pm
– Closed from November to February, except on Christmas holidays.
For any further information or booking please call +39 0324 905 675 or send an email >>>
SAFETY MASK IS MANDATORY
FROM AUGUST 6TH MANDATORY TO HAVE THE GREEN PASS OR EQUIVALENT CERTIFICATION
Photos: cover by Susy Mezzanotte on the website of Santa Maria Maggiore
Photos in the article: official Facebook page of the Chimney Sweep Museum

AND AFTER THE VISIT?
What else happens, what can you see and do in Piedmont? Click the link>>>
Do you know the traditional food of Piedmont?>>>
And its fine wines? Discover them>>>
DO YOU WANT TO KNOW FURTHER INTERESTING MUSEUMS?
See a selection of Theme Museums throughout Italy>>>
More Information >>>