Musicultura Festival – Macerata
24-25 June 2022. music and shows in the city and three final evenings at the Sferisterio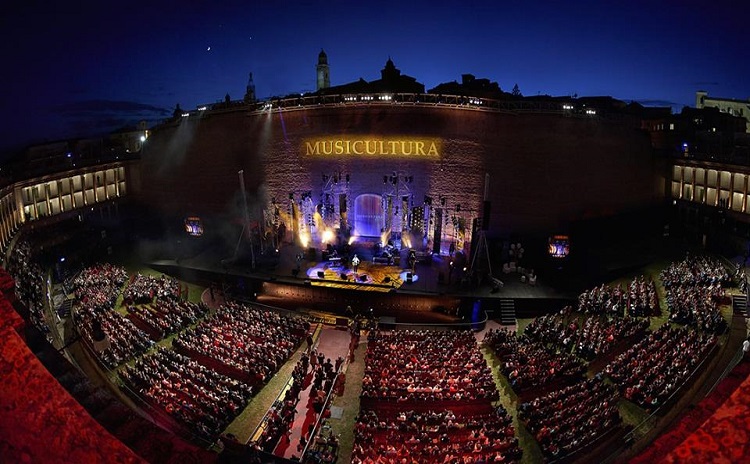 After the streaming auditions, Musicultura, the Festival of popular song singer-writer turns to live in Macerata on June 24th and 25th 2022 for the conclusion of its 33rd edition.
Musicultura has established itself over the years as one of the most innovative music festivals in the Italian panorama for the research and enhancement of new talents of contemporary popular and author music, in an effort to break down the traditional boundaries between culture and entertainment, between art and show, between high culture and mass culture.
But it has also become, as the organizers say, "a week of art, culture and entertainment" to experience the city thanks to many shows and events in the historic center of Macerata.
In the final evenings of the festival at the Sferisterio in Macerata. the 8 winners of the Musicultura competition will be on stage together with protagonists of Italian and international music, theater and literature.
In the previous editions on stage together with the Musicultura winners: Tosca, Asaf Avidan, Massimo Ranieri, Freancesco Bianconi, BandaKadabra, Salvador Sobral, Antonio Rezza, Lucilla Giagnoni, Bruno Tognolini, Pinguini Tattici Nucelari, Francesca Archibugi, Claudio Baglioni, Brunori Sas, Luca Carboni, Alessandro Carrera, Ennio Cavalli, Carmen Consoli, Massimo Ranieri, Simone Cristicchi, Gaetano Curreri, Teresa De Sio, Niccolò Fabi, Giorgia, Dacia Maraini, Mariella Nava, Gino Paoli,  Andrea Purgatori, Ron, Vasco Rossi, Enrico Ruggeri, Paola Turci, Roberto Vecchioni, Antonello Venditti, Sandro Veronesi, Willie Peyote,
USEFUL INFORMATION
Tickets can be booked online>>>
And in July starts Macerata Opera Festival with famous operas>>>
Macerata is just one of the characteristic cities in the region of Marche.
Discover more about Marche here >>>
cover photo from the website of Musicultura
More Information >>>