Artists' Lights in Turin
27 October-14 January. Art and lights created by contemporary artists for Christmas.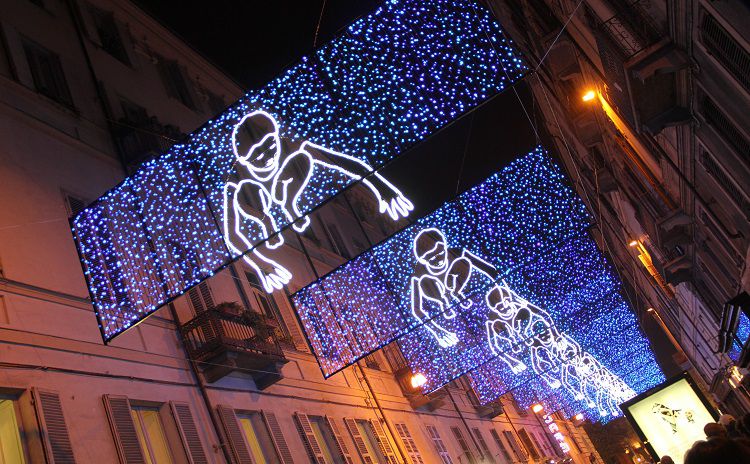 Since 1998 – when 14 artists were commissioned Christmas illuminations – Turin turns into an open-air art gallery during Luci d'artista (Artists' Lights). The decorations, on display from October 27, 2017, to January 14, 2018, are so much more than simple Christmas lights: they are open-air artworks.
"Luci d'Artista", now in its 20th edition, officially opens Turin's contemporary art season every year. The artworks on display are:
– L'amore non fa rumore by Domenico Luca Pannoli in Piazza Santa Rita;
– Ancora una volta by Valerio Berruti in Via di Nanni;
– My noon by Tobias Rehberger in Piazzale Chiribiri;
– Noi by Luigi Stoisa in Via Cibrario;
– Ice Cream Light by Vanessa Safavi in Piazza Eugenio Montale;
– Illuminate Benches by Jeppe Hein in the green area between Via Vibò, Via Stradella and Via Conte di Roccavione;
– Vele di Natale by Vasco Are in Piazza Derna;
– Palle di neve by Enrica Borghi in Via Vanchiglia;
– Amare le differenze by Michelangelo Pistoletto in Piazza della Repubblica;
– Piccoli Spiriti Blu by Rebecca Horn on Monte dei Cappuccini;
– Luce Fontana Ruota by Gilberto Zorio at Laghetto Italia '61;
– Il volo dei numeri by Mario Merz at Mole Antonelliana;
– Cosmometrie by Mario Airò in Piazza Carignano;
– Tappeto Volante by Daniel Buren in Piazza Palazzo di Città;
– Volo su… by Francesco Casorati in Via Garibaldi;
– Regno dei fiori: Nido cosmico di tutte le anime by Nicola De Maria in Piazza San Carlo;
– Il giardino Barocco Verticale by Richi Ferrero at Valperga Galleani Palace;
– L'energia che unisce si espande nel blu by Marco Gastini at Umberto I Gallery;
– Planetario by Carmelo Giammello in Via Roma;
– Migrazione, climate change by Piero Gilardi at San Federico Gallery;
– Cultura=Capitale by Alfredo Jaar in Piazza Carlo Alberto;
– Luì e l'arte di andare nel bosco by Luigi Mainolfi in Via Lagrange;
– Vento Solare by Luigi Nervo in Piazzetta Mollino;
– Palomar by Giulio Paolini in Via Po;
– Concerto di parole by Mario Molinari.
Plus, more City Lights with L'albero del PAV by Piero Gilardi (Via Giordano Bruno), the Intesa Sanpaolo Skyscraper (Corso Inghilterra), Sintesi '59 (Piazza XVIII Dicembre), Lumen Flumen Luminescenze/Riflessioni (Mosca Bridge in Corso Giulio Cesare), and Luce in cattedra (Castle of Valentino).
(Photos: ContemporaryArt Torino Piemonte)
Go to the website Artists' Lights in Turin