Calatafimi Segesta Festival
In Summer, two months of shows and concerts at Segesta Greek Theater
From July 16th to September 3rd, Segesta Greek Theater hosts "Calatafimi Segesta Festival".
Summer in Sicily is filled with events: comedies, tragedies, shows, workshops, concerts with great orchestras, and much more.
The 50th edition of the festival, signed by the art director Nicasio Anzelmo, is inaugurated on Sunday July 16th with the Promenade – "Rpide and Prejudice" in occasion of the 200th anniversary of Jane Austen.
Don't miss on Wednesday July 26th from 7pm in Piazza Cangemi the 50th anniversary of the first modern representation of "Peace by Aristophanes" is celebrated, represented in 1967 in Segesta thanks to a great Italian director, actor and writer Arnoldo Foà.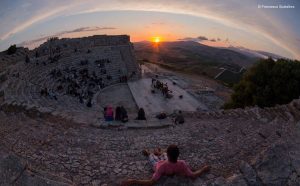 The program also includes also the "sunrises", theatrical moments dedicated to theatre lovers and tourists that follow the festival also when the sun rises, giving unique emotions.
A new initiative is organized this year "Il Teatro alla Città – la Città e il suo Teatro": music groups and theatre companies can perform for an evening at the Greek Theatre of Segesta, like the other companies participating in the festival.  Among the artists performing at the festival: Salvo Piparo, Enrico Lo Verso, Giuseppe Pambieri e Edoardo Siravo.
On August 10th an incredible show is set up where a scientific discussion and the stars observation are united by a Finish professor.
The theatre lovers may see shows like Lina, Menaechmi, and for the first time The Suppliants by Aeschylus.
The festival 2017 is organized by Calatafimi municipality, Archaeological PArk of Segesta and Assesorato regionale di Palermo.
(photo taken from the Facebook page of the event)