Palio dei Normanni – Piazza Armerina
12-14 August 2023. Historical reenactment and challenge among the town's districts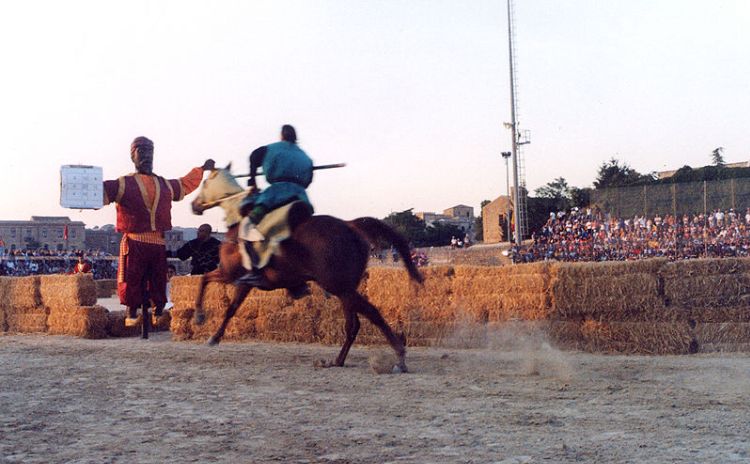 From August 12th to August 14th, 2023, noble ladies, knights and soldiers take part in Palio dei Normanni, the Medieval reenactment in Piazza Armerina, in Sicily. The main event of the festival is "Quintana", a Medieval joust with the historic districts of the town.
The Palio dei Normanni is a medieval celebration in memory of the Holy War against Muslims, which led to the liberation of the city. At the historic commemoration take part more than 600 minor players of the FIGS (Federazione Italiana Giochi Storici).
Historical parades and the investiture of the knights are scheduled in the previous days, along with the delivery of the keys to the city.
The Quintana on August 14th is the central event, a horse race where the historic districts of the city compete in a joust on horseback.
The challenge includes 4 tests to be run at a gallop:
– hit the shield of the puppet representing the Saracen with the competition lance;
– hit the Saracen's shield with the racing club;
– hit with the spear and grab a ring on the Saracen;
– throw a javelin and hit a ring at a height of 5 meters.
Drum rolls and trumpet blasts accompany all the events and the parades of ladies and knights in splendid ancient costumes.
The palio with the image of the Madonna delle Vittorie will go to the winner and will be exhibited throughout the year in the neighborhood church.
ItalybyEvents is not responsible for any change in the program
For information: Municipality of Piazza Armerina
Tel. +39 0935 982 111
See also the facebook page>>>
Photo: wikimedia commons

ARE YOU IN SICILY?
Sicily is a land full of charm!
Discover more about events or places to visit>>>
and enjoy Sicilian traditional food>>>
More Information >>>