Medieval Festival in Monteriggioni
5-15 July. Medieval Festival with dances, music, shows and traditional craft workshops.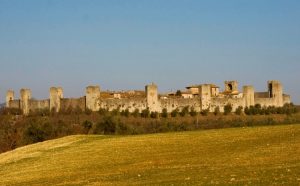 The 28th edition of the Medieval Festival takes place in Monteriggioni, a village near Siena known for Dante's quote that praises the wall in round crowned by the towers ("Monteriggioni che di torri si corona") from July 5 until July 15, 2018.
The festival brings to life, for two weekends, the life in a Medieval village with artisans, nobles, commoners dressed like the people of that time.
The events program includes live performances, music, dances, theatre and, like every Italian feast, the possibility to taste typical and traditional delicious recipes of the territory.
The event starts on July 5 with a banquet at the Castle, and continues for two weekends (6-8 and 13-15 July) with shows, music, dances and traditional artisan shops.
Photos by Michele Piccardo
Go to the website Medieval Festival in Monteriggioni