The Live Chess Game in Marostica
9-11 September 2022. the story of Lionora and her two young fiancés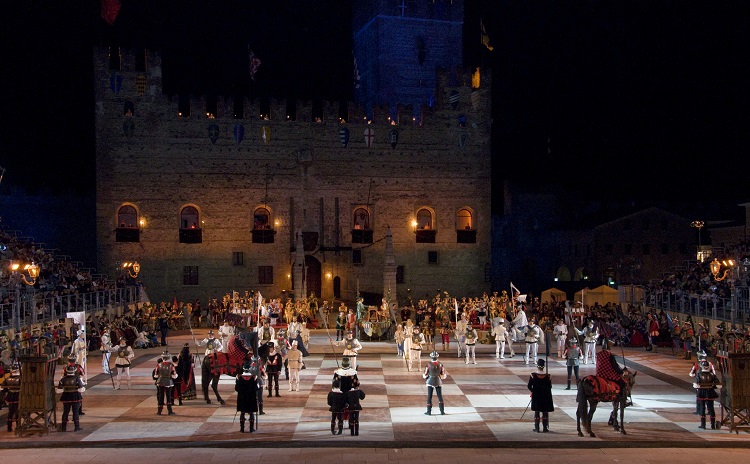 From September 9th to September 11th, 2022, the wonderful Piazza degli Scacchi in Marostica, in the Province of Vicenza, hosts – usually every 2 years – the reenactment of the story of Lionora, the daughter of the Lord of Marostica, and of her two young suitors Rinaldo d'Angarano and Vieri da Vallonara.
The show of the live Chess Game takes place in 2022 from Friday September 9th at 9 PM and it is repeated on Saturday 10th at 9 PM and on Sunday 11th at 5 PM and 9 PM.
The story of Partita a Scacchi di Marostica (Chess Game of Marostica) dates back to 1454. According to the legend, two valiant knights, Rinaldo D'Angarano and Vieri da Vallonara, fell in love with a beautiful girl called Lionora and challenge each other to a duel to win her heart. To avoid needless bloodshed, the girl's father, Castellan Taddeo Parisio, decided to give his daughter's hand to the winner of a chess game. The match took place in Piazza del Castello da Basso and was played with living pawns equipped with arms.
In memory of this event, every two years in September, Piazza degli Scacchi hosts the reenactment of that famous chess game with living pawns and participants in costumes.
Since it is impossible to reproduce the original moves made by the two knigths, the organizers get inspiration from some of the greatest chess games of all time.
About 3600 people on numbered seats can watch the performance.
Next edition as usual in 2022 as it is the next even year.
In 2023 a special anniversary edition.
In 2024 the Chess Game resumes the tradition of even years.
So three consecutive years of the Chess Game!
For any further information send an email to the Marostica Tourist office >>>
More Information >>>