Via Romagna cycle path, through 4 provinces
460 kilometers on minor paved and dirt roads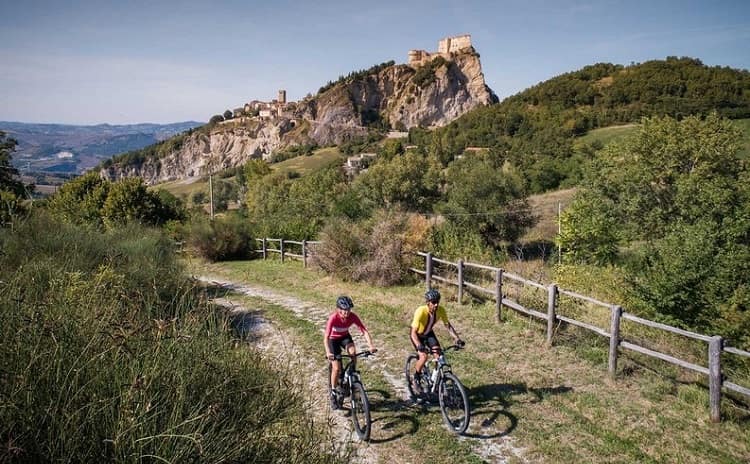 The "Via Romagna" cycle path is a long and interesting route on minor paved low-traffic roads and on "dirt" semi-deserted sections. It is a 460 km route (it is advisable to split it up) connecting the provinces of Ferrara, Ravenna, Forlì- Cesena and Rimini, and crossing about 30 municipalities, touching 20 beautiful sites such as fortresses and historic villages. On the route visitors can find churches, monuments, museums, many points of interest, and over 100 bike-friendly houses, B&Bs, and holiday farms.
The "ideal" departure is from Comacchio, on the Po Delta fascinating dirt roads. The route goes up the "Lower Romagna" to the hills of the Faenza area, and then to Forlì-Cesena.
It enters the Foreste Casentinesi Park on the border with Tuscany, and then heads south towards Valmarecchia and Valconca in the Rimini area, to end at the border with Marche, in San Giovanni in Marignano. From there begins the ascent to north on other routes and detours.
The "Via Romagna" runs along minor roads connecting with Ferrara, than it joins the important sea towns of Ravenna, Cervia, Cesenatico, Rimini, Riccione and Cattolica. It also goes across the existing cycle paths on the river banks, and historical-environmental roads.
The sites of historical and artistic interest, the water and refreshment points, and the many bike-friendly operators (bike shops for technical assistance, etc.) have been geo-referenced along the route. The route in the future will have special signage with over 1,500 signposts, 50 boards and information signs on the way.
Photos from the official website
Still feeling like cycling?
See a selection of cycle paths and cycle routes in Italy>>>

Cycling makes you hungry. What are the typical food and wines of Emilia Romagna? Click here to find out>>>