Ocarina Museum – Budrio
The story of the small terracotta flute that made its hometown famous all over the world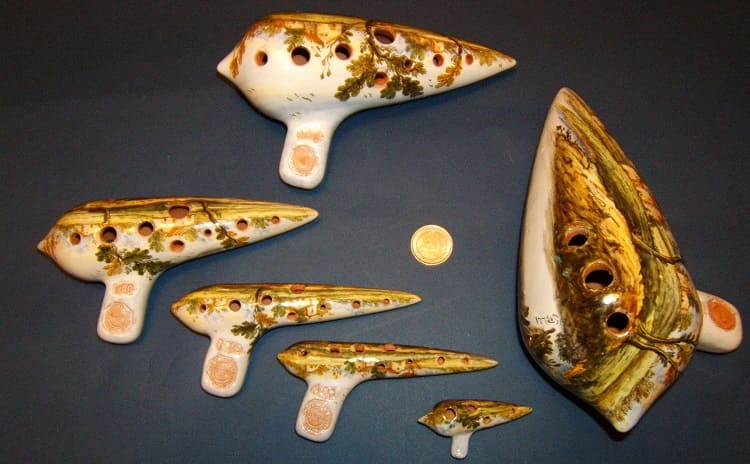 The ocarina is a small terracotta flute created in the mid-nineteenth century in Budrio (Bologna) by Giuseppe Donati (1836-1925), who made the first examples by hand.
The story of the ocarina is narrated in the Ocarina and terracotta Musical Instruments Museum, the only museum in the world that collects hundreds of pieces, photographs, records, scores, documents relating to the small instrument
On display there are important examples of the first ocarinas made by hand by the inventor Giuseppe Donati, those from the early twentieth century created by Cesare Vicinelli, known as the ocarina's Stradivarius, and the instruments decorated with liberty friezes and equipped with a metal plunger made by Alberto Mezzetti, who made ocarinas from 1870 to 1912.
Also exposed ocarinas made by Emilio Cesari, Guido Chiesa and Arrigo Mignani, the complete series of 9 ocarinas produced up to now by Fabio Menaglio, and the interesting material on the history of local ocarinistic groups, which since 1865 have contributed, with their concerts, to spread the knowledge of this instrument all over the world.
The museum was named after Franco Ferri, founder with other citizens of Budrio of the Municipal School of Ocarina and for a long time promoter, supporter and collector of instruments and documents belonging to the history of the ocarina of Budrio.
Every two years, in odd years, the International Ocarina Festival takes place in Budrio.

USEFUL INFORMATION
The museum is open from 1st October to mid-June:
Every Sunday from 3.30 pm to 6.00 pm.
Always open with free admission on the third Sunday of the month from 10:00am to 12:00pm and from 2:00pm to 5:00pm.
For more information on extraordinary opening days +39 051 69 28 286
It is possible to request an extraordinary opening – to be paid – on other days by booking a visit by calling +39 051 4846303 or by sending an email to the pro-loco of Budrio>>>
Photo from the Ocarina Festival website

OTHER CURIOUS MUSEUMS?
Italy hosts many themed museums and interesting museums created from the passion of their founders. Look at a selection of curious museums all around Italy>>>
And why not taste and enjoy the traditional food of Emilia Romagna!>>>