Emilia Romagna – Territory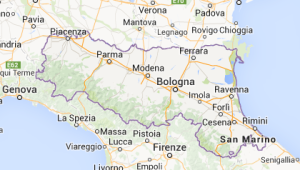 The territory of Emilia Romagna is mostly flat, but it also includes the mountain area of the Apennines, with many natural parks, habitat of several endangered species including deer, wolves, foxes and squirrels.
These green areas and the paths of the ancient Via Francigena are perfect for trekking, mountain biking and horse riding tours.
In the eastern part, Emilia Romagna gently slopes toward the Adriatic Sea and encounters the mouth of the river Po creating long sandy beaches with shallow waters.
The Adriatic coast is a very popular seaside destination, mostly known for its lively nightlife, for the vaste offer of hotel facilities (from very little hotel to luxury resorts) and good seafood restaurants.
Comacchio Valleys with the large salt pans are a vast lagoon and wetland located between the provinces of Ravenna and Ferrara. A beautiful natural oasis, also known for its typical dish: the eel.
NATIONAL PARKS IN EMILIA ROMAGNA:
The National Parks of Italy are natural areas of land, sea, river, or lake whose value is a well-preserved ecosystem. Thus their nature, together with their cultural, educational, or recreational values ​​are protected by the Italian Government in order to be preserved for the future.  Currently, in Italy there are 25 National Parks, covering an area of ​​over 1,500,000 hectares (15,000 km²), about 6% of the Italian territory.
Foreste Casentinesi, Monte Falterona and Campigna National Park
Tuscan-Emilian Apennines National Park

REGIONAL PARKS IN EMILIA ROMAGNA:
The Italian Regional Parks are land, river, lake, and sea areas facing the coast. Their value is being like a system including the nature of the places, art, ​​and cultural traditions of the local inhabitants. The Italian Regional Parks are more than 150 and cover an area of ​​approximately 1million and 500,000 hectares.
Taro River Regional Park
Stirone River Regional Park
Boschi di Carrega Regional Park
Gessi Bolognesi e Calanchi dell'Abbadessa Regional Park
Sassi di Roccamalatina Regional Park
Corno alle Scale Regional Park
Po River Delta Regional Park
Alto Appennino Modenese Regional Park
Vena del Gesso Romagnola Regional Park
Cedra and Parma Valleys Regional Park
Abbazia di Monteveglio Regional Park
Lakes Suviana and Brasimone Regional Park
Monte Sole Regional Park
Panaro River Regional Park

NATURE RESERVES IN EMILIA ROMAGNA:
The Nature reserves, also called Protected Natural Areas or Natural Oasis, their mission is to maintain their "equilibrium" by conserving and increasing biodiversity. These areas are characterized by heterogeneous landscapes and they are home to different species of animals and plants. They are the animal's shelter for reproduction.  Hunting is prohibited. Actually Protected Natural Areas in Italy are more than 145
In the Province of Forlì-Cesena:
Badia Prataglia Nature Reserve
Campigna Nature Reserve
Sasso Fratino Nature Reserve
In the Province of Ferrara:
Bassa dei Frassini – Balanzetta Nature Reserve
Bosco della Mesola Nature Reserve
Dune e isole della Sacca di Gorino Nature Reserve
Po di Volano Nature Reserve
Sacca di Bellocchio II Nature Reserve
In the Province of Ravenna:
Destra foce Fiume Reno Nature Reserve
Duna costiera di Porto Corsini Nature Reserve
Duna costiera ravennate e foce torrente Bevano Nature Reserve
Foce Fiume Reno Nature Reserve
Guadine Pradaccio Nature Reserve
Pineta di Ravenna Nature Reserve
Sacca di Bellocchio I Nature Reserve
Sacca di Bellocchio III Nature Reserve
Salina di Cervia Nature Reserve

UNESCO BIOSPHERE RESERVES IN EMILIA ROMAGNA:
The Unesco Biospehere Reserves are representing important land, sea, coast ecosystems in which the conservation of its biodiversity is associated with the sustainable use of natural resources for the benefit of local communities. The worldwide network of Biosphere Reserves includes 669 reserves in 120 countries on five continents, of which 16 Biosphere Reserves in Italy
Tuscan-Emilian Apennines
Po River Delta

WWF NATURE RESERVES IN EMILIA ROMAGNA:
The WWF Oases are the first Italian network of protected areas managed by a private association. WWF activities in the Oases range from ecotourism to nature holidays, education, training, and environmental information programs. There are more than 100 WWF Oases in Italy, covering more than 30,000 hectares of land in 18 regions. They are visited by more than 500,000 people a year.
In the Province of Bologna:
Montovolo
Oasi Fluviale del Molino Grande
In the Province of Modena:
La Francesa
Prato-stagno di Sassoguidano
In other Provinces:
Ca' Brigida (Rimini)
Dune Fossili di Massenzatica (Ferrara)
I Ghirardi (Parma)
Marmirolo (Reggio Emilia)

BLUE FLAGS IN EMILIA ROMAGNA:
Blur flag is an international recognition reserved for lakes or seaside tourist resorts that comply with sustainable land management criteria. The Blue Flag is awarded annually by the non-governmental and non-profit organization "Foundation for Environmental Education" (FEE). Only the localities whose waters have been excellent in the previous season can apply. In 2020, more than 195 municipalities and over 407 Italian beaches have been awarded as "Blue Flag".
In the Province of Ravenna:
Cervia – Milano Marittina/Pinarella
Ravenna – Casal Borsetti, lido di Dante, lido di Classe, lido di Savio, marina di Ravenna, punta marina Terme, lido Adriano, marina Romea, porto Corsini
In the Province of Rimini:
Bellaria Igea Marina
Cattolica – Acquario, via Fiume
Misano Adriatico – lido
In other Provinces:
Cesenatico – Zadina, Ponente, Levante [Valverde, Villamarina] (FC)
Comacchio – Lido di Volano/Nazioni/Scacchi/Pomposa/Garibaldi, Lido Estensi, Lido Spina (FE)

ORANGE FLAGS IN EMILIA ROMAGNA:
Orange Flag is a tourism-environmental quality mark awarded by the Italian Touring Club to small towns in the Italian inland (maximum 15,000 inhabitants) which stand out for their quality hospitality. The Orange Flag has been awarded to over 200 Italian municipalities.
In the Province of Forlì-Cesena:
Bagno di Romagna
Longiano
Monteleone
Portico e San Benedetto
Premilcuore
In the Province of Modena:
Castelvetro di Modena
Fanano
Fiumalbo
Sestola
In the Province of Piacenza:
Bobbio
Castell'Arquato
Vigoleno
In the Province of Parma:
Busseto
Fontanellato
In the Province of Ravenna:
Brisighella
In the Province of Rimini:
Montefiore Conca
Pennabilli
San Leo
Verucchio