The Holy Week in Ceriana (Imperia)
Four days of traditional Easter rituals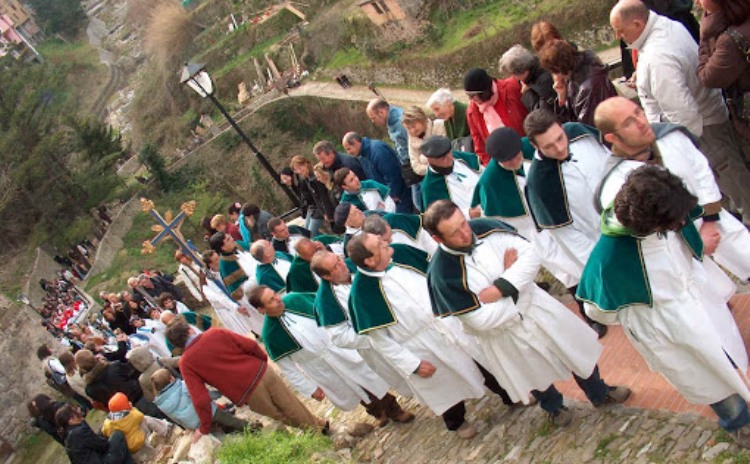 From Holy Thursday to Easter Sunday, it takes place in Ceriana (province of Imperia) the traditional Easter ritual of the Holy Week.
Every day a procession represents one of the episodes of the Passion, death and Resurrection of Christ.
The ancient Easter celebration in Ceriana has medieval origins and culminated with the flagellants processions, wearing a black dress and a hood who flogged themselves to redeem their sins. This ritual ended in 1866 when public flogging was forbidden by the law. Since then the hooded flagellants bring the whips by hitting only stones and wood.
The Holy Week Rituals start on Thursday, when the four brotherhoods of the city leave their own places to arrive in the parish Church of Saints Peter and Paul where they enter in this sequence:
– Brotherhood of Misericordia: with a black shirt and a cape hemmed with gold
– Brotherhood of Saint Catherin of Alessandria: with a white shirt and red cape;
– Brotherhood of Visitazione: with a white shirt and blue cape;
– Brotherhood of Saint Mary: with white a shirt and green cape;
The processions and rituals of the Holy Week in Ceriana are accompanied by the sound of two particular instruments: the horns, made with chestnut bark, and the tabulae, wooden tables hit by an iron stick that produces a deep sound.
On Holy Thursday, in the afternoon, the choirs of the fours brotherhoods with the horns substitute the bells. In the evening the Mass of the Lord's Supper is celebrated, in the Church of Saints Peter and Paul, along with the songs of the brotherhoods.
On Holy Friday, the Passion with the brotherhoods is followed by the little angels Procession, children wearing angel customs that walk carrying the symbol of Passion: the rooster, nails, hammer, the crown of spine, etc.
On Easter Sunday the solemn Mass is celebrated with the songs, horns and tabulae.
The food distributed during the feast are the frisciöi, typical salted codfish, vegetables and honey pancakes.
But what are other traditional dishes in Liguria? >>>
(photos: municipality website)

ARE YOU INTERESTED IN EASTER RITUALS?
See further Easter and traditional religious events in Italy>>>
More Information >>>