Narni Underground – Narni
A journey under the city to rediscover cisterns, crypts and the secret rooms of the Inquisition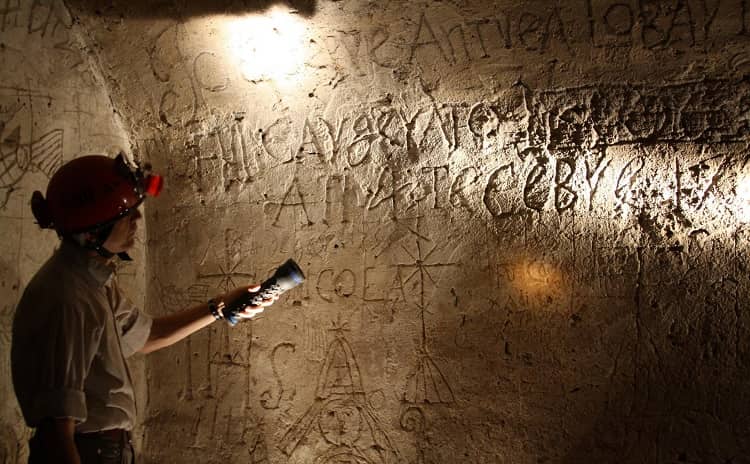 Narni Underground is a complex of hypogea located under the city of Narni, in the province of Terni, open to visitors since 1977.
The basements are for the most part made up of water tanks dating back to the Roman Empire and of rooms used both by the population and by monastic orders.
The visit to the Underground is guided and lasts from an hour to an hour and a half. An engaging journey through history, from the Roman period to the secret rooms of the Inquisition, rediscovering aqueducts, cisterns, crypts and cells as if time had stopped.
The Narni Underground path begins by entering the San Domenico convent, a twelfth-century church discovered only in 1979 in which are preserved some of the oldest frescoes of the city.
In this first room, a glass floor makes it possible to admire the recent archaeological finds and, through a suggestive virtual reconstruction, also the various historical phases that affected the ancient underground church.
Through an opening in the wall, visitors pass into a room with a Roman cistern, probably what remains of a Domus and, thanks to some special effects, they can enter the passages to the Formina Roman aqueduct.
Along a long corridor, visitors arrive in a large room where the interrogations of the Inquisition Court once took place. This environment is mentioned in historical documents in the Vatican Archives and was called the Room of Torments.
A small adjacent cell, unique of its kind, documents with graffiti on the walls the pain suffered by the investigated, one of whom wanted to leave a message through a graphic code, with Masonic alchemical symbols not yet completely deciphered.
Recent archaeological excavations have brought to light a twelfth-century crypt and the apse of the ancient Santa Maria Maggiore church, once the cathedral of Narni, where inside it hosts a beautiful sixth-century Byzantine mosaic.
USEFUL INFORMATION
Opening hours:
– From 1 October to 31 March: Saturday, Sunday and holidays, guided tours from 11am to 4pm.
– From 1 April to 15 June: Saturdays and holidays, guided tours from 11.30am to 5.30pm. Sunday and holidays, guided tours from 10am to 5.30pm.
– From 16 June to 30 September: Saturday, Sunday and holidays, guided tours from 10am to 5.30pm.
On weekdays guided tours at 11am – 11.30am – 12pm and at 3pm -3.30pm – 4pm
Entrance with a fee>>>
Booking is mandatory by calling +39 339 1041645 or +39 0744 722292
For more info visit also the Facebook page
It is recommended to wear a safety mask and to keep an interpersonal distance of at least 1 meter.
________
At the end of the visit to Narni underground, there is the Lacus Narni Adventures, an adventure path in an underground environment of 1200 in tanned stone and remains of the floor in opus spicatum. Visitors can venture on a playful path with Tibetan bridges, ride a zipline and climb artificial walls. An educational experience accompanied by reconstructions, photos, didactic panels and a waterfall to understand the importance of water sources and caving.
The Narni Adventures path is suspended until further notice due to anti-COVID regulations
Photos from the Facebook page of Narni Underground
WHAT ELSE CAN YOU DO IN UMBRIA?
Discover further events or places to visit in Umbria>>>
And give you the chance to taste the traditional food>>> and the wonderful wines>>>
More Information >>>