Museum of Mummies – Ferentillo
24 naturally mummified bodies in the heart of Umbria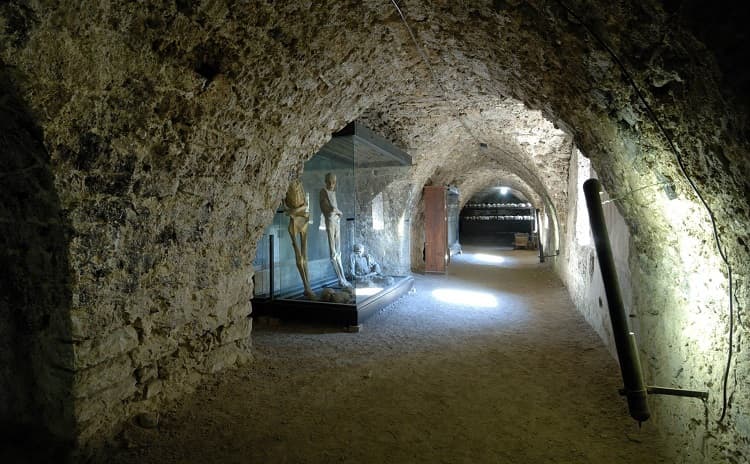 The Museum of Mummies is located in Ferentillo, a small town in Valnerina (valley of the Nera), in the province of Terni, divided by the Nera river into two villages, Precetto and Matterella.
The museum boasts the largest collection of naturally mummified bodies in Umbria.
The museum, built in 1992, is located under Santo Stefano Church, in a 24-meter long crypt. Originally the crypt was a medieval church which was then used as the foundation for the subsequent construction.
From 1500 in the crypt were buried all the dead of the village of Precetto until the Napoleonic Edict of Saint Cloud was issued and extended to Italy in 1806. The edict forbade any burial within the city walls and extra-urban cemeteries were established.
The last burial in the crypt took place in 1871.
The exhumation of the bodies was also ordered and at that time it was possible to observe the perfect mummification of part of them.
The bodies, yellowish in color, revealed that their mummification was completely spontaneous, due to natural drying due to the environment and the ground conditions. In addition to preserving the skin, some mummies still had intact nails, teeth, ears, lips, genitals, beards and hair.
The collection today includes 24 human mummies including men, women and children, 10 preserved heads, more than 270 skulls, a sealed coffin, an eagle and another mummified bird. Among the mummies there is also a couple with Asian features. The legend says that it is a Chinese married couple who arrived in Italy on the occasion of the Christian Jubilee in 1750 and who then fell ill and died in Ferentillo.
The architecture of the crypt still has elements dating back to the medieval church phase of the thirteenth century such as the ancient portal, the remains of the apse as well as the frescoes belonging to the fourteenth and fifteenth centuries.
The floor is made of earth, which has become very compact due to the dripping of mountain spring water that penetrates through the ceiling.
Nowadays, the Museum of the Mummies in Ferentillo is one of the most visited museums in Umbria.
USEFUL INFORMATION
Opening hours >>>
Entry with a fee
For information and reservations please call +39 328 6864 226 – +39 335 654 3008 or send an email>>>
Photos from the Facebook page of the museum
Are you in Valnerina?
Visit the Nera Cycle path, a 28 km cycle path to discover the villages and historic centers of Valnerina along the former Spoleto-Norcia railway>>>
DO YOU WANT TO KNOW FURTHER INTERESTING MUSEUMS?
See a selection of Theme Museums throughout Italy>>>
More Information >>>