Truffles fairs in Umbria
A calendar of Truffles' fairs in Umbria, all in the area of Perugia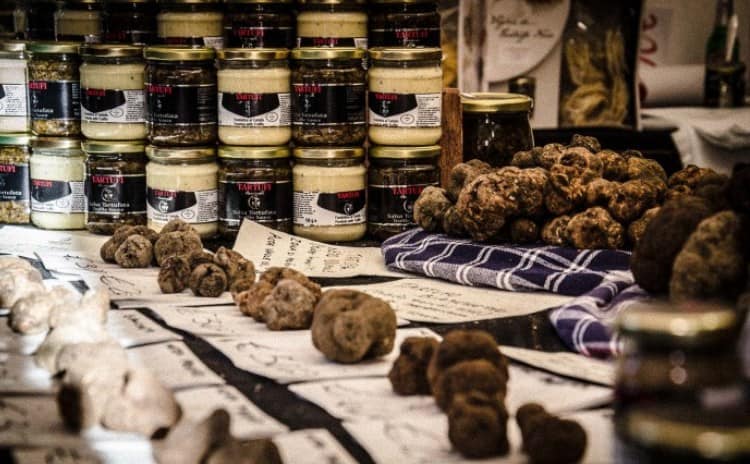 The truffles grow spontaneously in Umbria and they are protagonists of its food tradition.
Thanks to its strong truffle culture, Umbria has also developed a system of fairs and festivals celebrating truffles, in which truffles are sold, tasted and discussed in workshops >>>

THE TRUFFLE VARIETIES IN UMBRIA
The Black Truffle (Tuber Melanosporum Vittadini) also known as the Norcia or Spoleto Truffle, the White Truffle, and at least another seven to eight species of truffles that ripen throughout the year, including the well-known Scorzone (Tuber aestivum) and the winter truffle called Uncinato truffle (Tuber Uncinatum Chatin).
If you are interested in knowing more about all the varieties of Umbria truffle, follow the link>>>

THE TRUFFLE FAIRS IN UMBRIA
Truffle fairs and festivals in Umbria take place from June to late November, some also between February and March.
Here below you can find a calendar of truffle fairs and festivals in Umbria, all in the area of Perugia.
Some events may have been postponed or canceled due to organizational difficulties in this anomalous year.
Thus we kindly recommend always checking on the official website if anything has changed. Some information can be on the Municipality website.

NERO NORCIA – Norcia (Perugia)
February-March
FESTIVAL OF TRUFFLE AND ROAST GOOSE – Spello (Perugia)
June-July
TRUFFLE FESTIVAL – Ripa (Perugia)
July-August
TRUFFLE FESTIVAL – Spina di Campello (Perugia)
September
BISACCIA DEL TARTUFAIO – Citerna (Perugia)
First half of October
TRUFFLE AND POTATO EXHIBITION – Pietralunga (Perugia)
October
AUTUMN FEAST – Monte Santa Maria Tiberina (Perugia)
October
NATIONAL EXHIBITION OF THE WHITE TRUFFLE – Città di Castello (Perugia)
October-November
GUBBIO, LAND OF TRUFFLES – Gubbio (Perugia)
October-November
TRUFFLE MARKET EXHIBITION – Valtopina (Perugia)
November
Go to the article to better know the Umbria varieties of truffle>>>
Photo from Nero di Norcia website