The Satriano Carnival
2-3 March. Unusual green Carnival with men dressed as trees.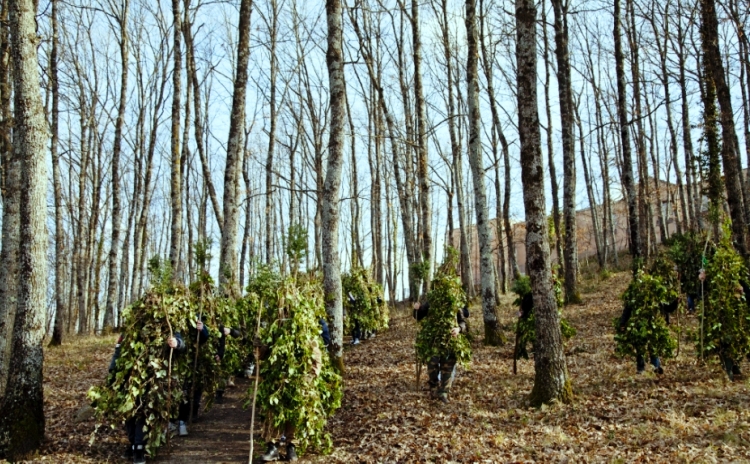 The Satriano Carnival takes place in a small town located in the National Park of Lucano Apennines, in the province of Potenza. The Walking Forest is a unique event that sees people dressing up like trees: these men, called Rumita (from the word 'hermit'), are completely covered in ivy leaves and wear a walking stick with a branch of butcher's-broom (called frùscio) at the top. It takes place from From March 2 to March 3, 2019.
On March 2 and March 3, workshops, parades and parties for adults and children.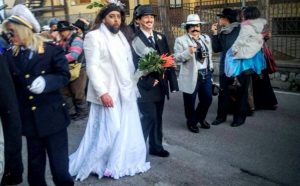 On Saturday, March 2, 2019, wedding with role reversals, where men dress up as women and vice-versa, takes place.
The following day, on Sunday, March 3, 2019, the Rumìtas, dressed as trees, leave the forest and arrive in the village. While they wander the streets, they knock on people's house with the frùscio, a ceremony that brings luck according to tradition, and they receive, in exchange, food and gifts.
Satriano Carnival's Walking Forest is symbolically composed by 131 wandering trees, which represent the 131 towns of Basilicata. The event is organized by the association Al Parco in collaboration with Satriano's Municipality, the National Park of Apennine Lucano, APT Basilicata, associations, volunteers and private corporates.
Everybody can participate in the event by dressing up as a tree and becoming a Rumita for a day and transmitting an ecological message: to restore an old relationship with the Earth to respect the future generations.

For the 7th year running, the Carnival of Satriano is a green event:
– they use biodegradable glasses,
– the advertising material is printed on FSC paper,
– they use seasonal and farm food,
– and they pay attention to divide the garbage by following strict rules of recycling.
(photos: event's Facebook page)

Go to the website The Satriano Carnival