Wine Barrel Race – Nizza Monferrato
10-11 June 2023. A traditional race with barrels. And tastings of local food and wine.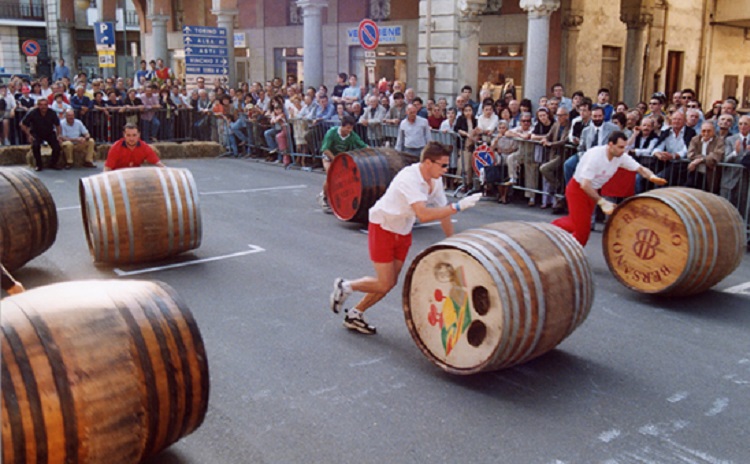 On June Saturday 10th and Sunday 11th 2023, Nizza Monferrato, in the province of Asti, hosts the Wine Barrel Race. Winery firms, winemakers and local producers challenge one another to a 200 years old race, where shop boys used to deliver barrels by rolling them in the streets and started to compete.
On Saturday, barrels are weighed and branded, then test runs and finally the race qualification. Every team is made up of a supervisor and 3 or 4 pushers, who push a 100 kg barrel ("bonsa") in turn. A panel of judges is in charge of the race regulation, they can disqualify a team whether irregularities are committed
On Sunday, two tournaments compete in the semi-final. Only the first three teams get into the Finals.
Along with the Wine Barrel Race, it is held Monferrato on the Table (Monferrato in Tavola), a local food and wine fair with tastings of traditional specialties from Monferrato such as tajarin with black truffles, agnolotti and risotto with Barbera wine and much more.
In program handcrafts, local stands, an antiquarian market, live music and entertainment for kids.
The currency of exchange is Carlino, specifically coined in honour of the Town's Saint.
To be updated see the website of Nizza Monferrato>>>
Want to know what are Piedmont's traditional dishes?
More Information >>>