The Siena Palio – August – Siena
On August 16th, the summer horse race edition of the most famous Palio in the world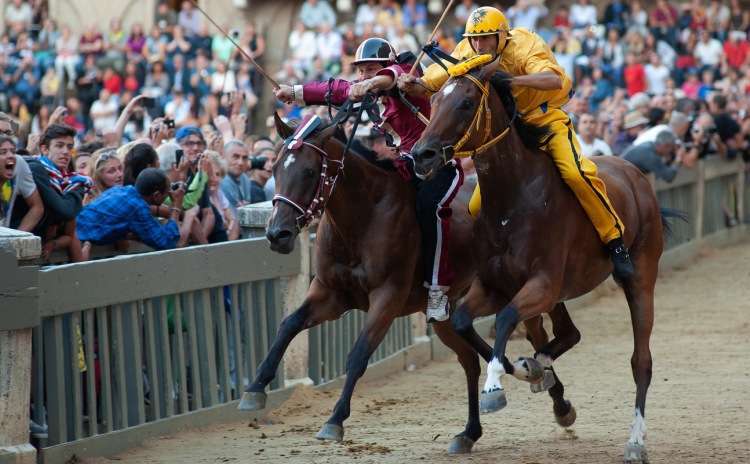 On August 16th, it is taking place the second race of Siena Palio (Palio di Siena), the ancient horserace and historical reenactment organized in Siena. The first one is occurring in July.
The Siena Palio involves the 17 Contrade (Districts) of the city that have been established in 1729 by the Violante of Bavaria, Governor of the City.
As in July, only 10 districts out of 17 run the August race: 7 of them didn't run in the previous Palio and 3 of them are drawn among those that participated in the race. The drawing occurs on the first Sunday after the July Palio.
Before the race of Siena Palio, a historical parade takes place: the Historical Promenade (Passeggiata Storica), made of 600 characters in customs representing the 17 districts and the governors of the old Republic of Siena. The parade starts from Piazza del Duomo, walks through the city center and reaches Piazza del Campo where the race is going to start.
The horse race of Siena Palio consists of riding 3 laps bareback (no saddle).
Anyone can watch the Palio (and the trials on the previous days) for free from the middle of the Piazza, but it is mandatory to arrive very early as so many people are interested in it and the square entrance is just for a limited number.
It is also possible to watch the Palio from the bleacher seats, the balconies, or the windows overlooking the Piazza by paying a ticket.
It is not so easy and not cheap to find the tickets as many are managed by owners or individuals.
The Palio di Siena takes place also in July >>>
source photo: Roberto Testi on il palio.org


ARE YOU IN SIENA?
Look at what else you can do or visit in Tuscany>>>
And taste the wonderful Tusvany's traditional food>>> and wines>>>
More Information >>>