Giostra cavalleresca in Sulmona
30-31 July 2022. Jousting tournament and historical parade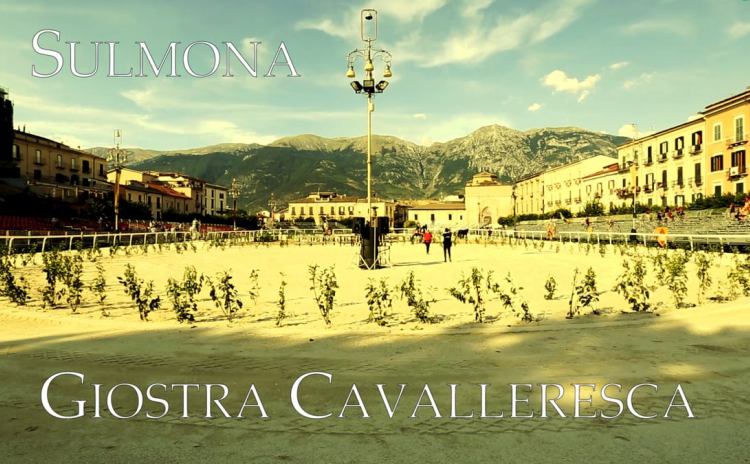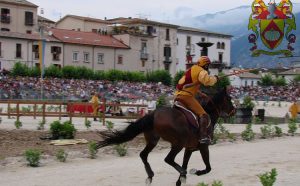 On the last weekend of July (in 2022 on July 30th and 31st) the town of Sulmona, in the province of L'Aquila, hosts an historical Renaissance reenactment: Giostra Cavalleresca, the knight jousting tournament.
The knights of Sulmona's "Sestieri" and "Borghi" take part in a two-day competition to win the "palio" (prize), a canvas painting made every year by a different artist.
Before the tournament, a historical parade sees 500 figures participate.
The challenge of the Giostra Cavalleresca between the knights of the 4 Sestieri and 3 Borghi (districts) in which Sulmona is divided, uses Piazza Maggiore as the tournament field.
The horses must run around a complete oval in about 30 seconds, while knights try to insert the rings into 3 targets. The score is established by the number of attempts that the knights (maximum 3 per person) make to insert the rings; in case of tie the different sizes of every ring are considered (the 10 cm ring is equivalent to 1 point, the 8 cm one is worth 2 points and the 6 cm circle is worth 3 points). In case of another tie the time is considered to evaluate the score.
The record is by the knight Marco Diafaldi of the Sestiere Porta Manaresca riding Hermosa, by attempting 3 times in 28.21 seconds.
See also the facebook page of the event
Are you in Sulmona?
See other events and places to visit in Abruzzo>>>
Do you know the traditional dishes in Abruzzo? Click here>>>
Photos from Wikipedia and the event's official website.

More Information >>>