Knight jousting in Sulmona
29-30 July 2023. Jousting tournament and historical parade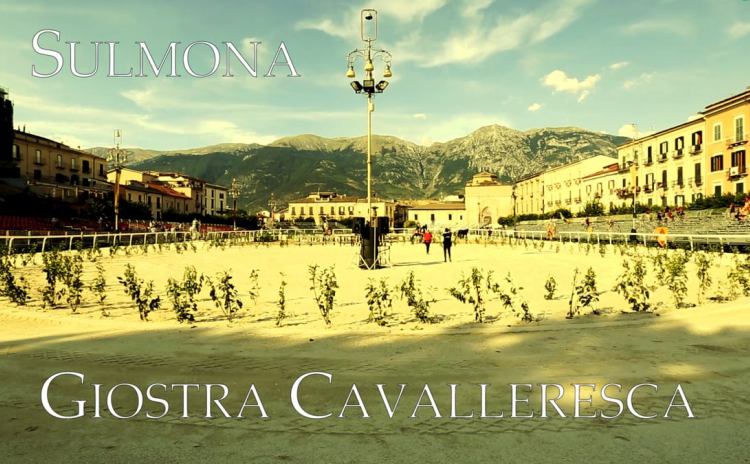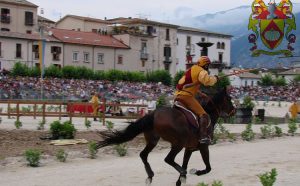 On the last weekend of July (in 2023 on July 29th and 30th) the town of Sulmona, in the province of L'Aquila, hosts a historical Renaissance reenactment: Giostra Cavalleresca, the knight jousting tournament.
The knights of Sulmona's "Sestieri" and "Borghi" take part in a two-day competition to win the "palio" (prize), a canvas painting made every year by a different artist.
Before the tournament, a historical parade sees 500 figures participate.
The challenge of the Giostra Cavalleresca between the knights of the 4 Sestieri and 3 Borghi (districts) in which Sulmona is divided, uses Piazza Maggiore as the tournament field.
The horses must run around a complete oval in about 30 seconds, while knights try to insert the rings into 3 targets. The score is established by the number of attempts that the knights (maximum 3 per person) make to insert the rings; in the case of a tie the different sizes of every ring are considered (the 10 cm ring is equivalent to 1 point, the 8 cm one is worth 2 points and the 6 cm circle is worth 3 points). In case of another tie the time is considered to evaluate the score.
The record is by the knight Marco Diafaldi of the Sestiere Porta Manaresca riding Hermosa, by attempting 3 times in 28.21 seconds.
For any further information:
Go to the website>>>
Tickets required. Call +39 0864 210969
or send a mail>>>
See also the facebook page>>>

Are you in Sulmona?
See other events and places to visit in Abruzzo>>>
Do you know the traditional dishes in Abruzzo? Click here>>>
More Information >>>