MAS National Museum of Underwater Activities – Marina di Ravenna
The only museum in Italy dedicated to underwater activities. Library for members and researchers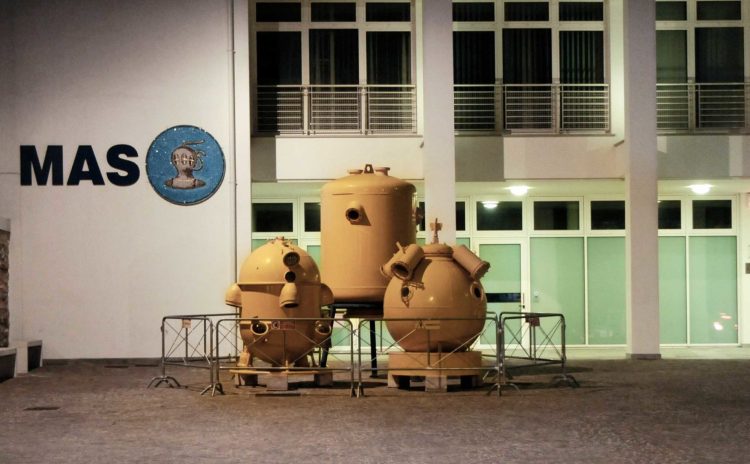 The National Museum of Underwater Activities (MAS) has been inaugurated in 1998.
It is the only one of its kind in Italy and is housed in the Civic Center of Marina di Ravenna, a small district in Ravenna.
In front of the museum entrance you can see some impressive historical professional equipment:
– diving bell for deep water work
– Atmosphere diving bathysphere
– Butoscopic turret
Inside, the museum is divided into 5 themed rooms related to diving:
– Navy
– Underwater work
– Christ of the Abyss
– Photo-cine sub
– Thematic exhibitions
The museum also houses a well-stocked library of fiction and non-fiction books on the sea, the environment, underwater activities and their history available to members, students and researchers.
The National Museum of Underwater Activities was founded by HDS Italia (Historical Diving Society) in collaboration with the Municipality of Ravenna and is part of the network of the Museum System of the Province of Ravenna.
USEFUL INFORMATION
The museum can be visited upon RESERVATION
Entrance with a fee
Free for children under 15.
For information and reservations please call +39 338 726 5650
It is recommended to wear a safety mask and to keep an interpersonal distance of at least 1 meter.
Photos from the Facebook page of the museum
______
Do you have children or a fond memory of the old puppet show?
In Ravenna you can visit the Puppets House, an important collection of marionettes, puppets, stage sets… >>>

DO YOU WANT TO KNOW FURTHER INTERESTING MUSEUMS?
See a selection of Theme Museums throughout Italy>>>
More Information >>>