Torneoinarmatura – San Leo
July 1st-2nd 2017, two days of tournament in the Italian Renaissance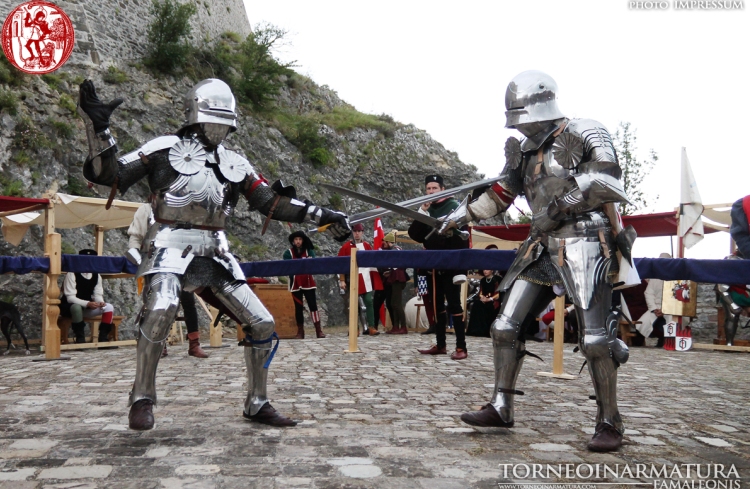 San Leo municipality hosts an event that remembers in 2 days the period of Italian Renaissance. On Saturday July 1st and Sunday 2nd 2017, the Fortress of San Leo turns into the framework of Torneoinarmatura, with different battles in a close arena (fence) that takes place according to the rules of late 1400.
The main characters of Torneoinarmatura compete with each other through a sword challenge and they represent:
– Duke of Urbino Federico da Montefeltro,
– Duke of Milan Francesco Sforza,
– Serenissima Venice Republic,
– Florence Republic,
– Ordelaffi the Governors of Forlì,
– Prince of Savoia-Luxemburg
During the two days of Torneoinarmatura you can visit the fortress that for the occasion is enliven by knights that challenge one another to win the prize, but also by ladies, courtiers, soldiers, juggler shows.
The visitor has the possibility to visit the Weapon Room, kitchen room and observe the emblems of the Knights in the Prize Room.
The program includes also the Knights Dressing before the Tournament and the Delegation Ceremony.
Torneoinarmatura is a project that makes you experience a tournament in its historical framework and for this reason the visitor lives not only the tournament, but also the Italian Renaissance period.
The event was recommended by Eugenio Larosa and organized by Associazione Culturale FAMALEONIS of Forlì. PFor more info >>>
Photos: Flickr of official website

Go to the website Torneoinarmatura – San Leo