FestivaLiterature – Mantua
September 9 to 13, 2020, meetings with writers and poets from all over the worlds, concerts, shows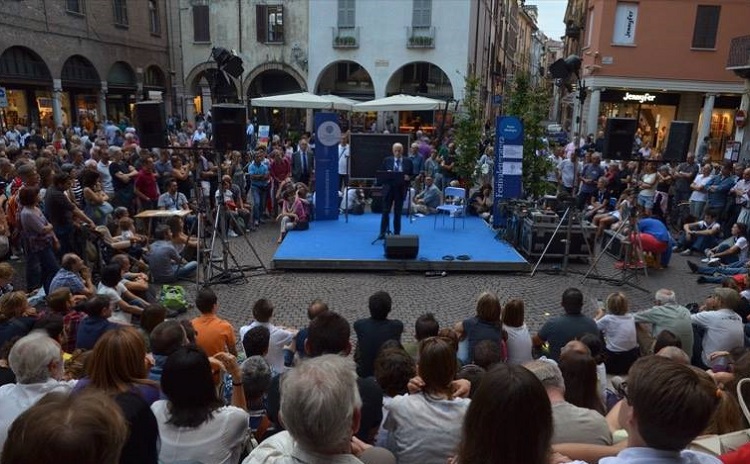 RESERVATIONS ARE MANDATORY
Tickets can be purchased:
– ONLINE ON THE FESTIVAL WEBSITE >>>
A CONFIRMATION MAIL will be sent after the purchase
which will be SHOWN in order to ACCESS the events
– at the LOGGIA DEL GRANO of the CHAMBER OF COMMERCE
   from Tuesday 1 September to Tuesday 8 September from 9 am to 1 pm and from 3 pm to 7 pm
   from Wednesday 9 to Saturday 12 September from 9 am to 7 pm continuously
   Sunday 13 September from 9 am to 1 pm
   Electronic payment is recommended (credit cards or debit cards).
Even FREE EVENTS must be BOOKED in the same way
——–
From Wednesday, September 9 to Sunday, September 13, 2020 in Mantua takes place the 24th edition of FestivaLiterature.

The rich program is based on workshops on the most actual cultural topics and gives the opportunity to meet writers, essayists, artists, poets, scientists coming from all over the world.
Not to be missed also concerts and shows.

Kids and teenagers are welcomed and some activities are tailored just for them.

FestivaLiterature objective is to enhance the dialogue about important issues in order to reinforce it and to make it as open and lively as possible.

Some events are free-entry, others require an entrance fee.

(Photos: Facebook page of the event)
More Information >>>