Pont-Saint-Martin Carnival
February 16th to 22nd, 2023. History and folklore with Saint Martin and the Devil.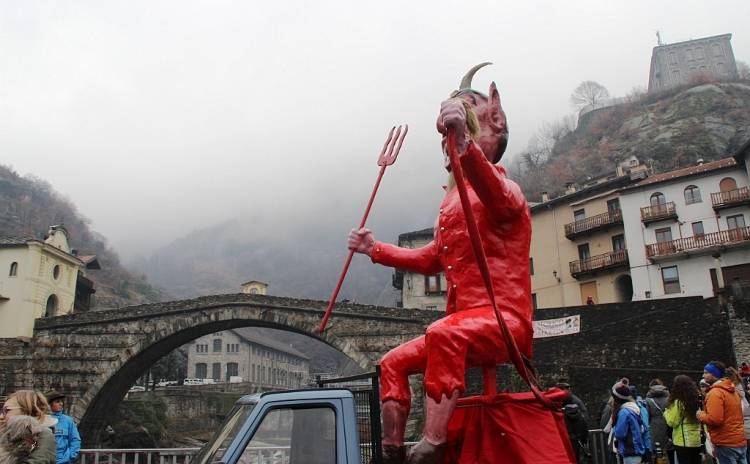 From February 16th to 22nd, 2023, it takes palce the 113rd edition of the Pont-Saint-Martin Carnival – where ancient tales and traditions live again every year.
A local legend tells that Saint Martin, on a pilgrimage along the Via Francigena, met the Devil in Pont-Saint-Martin, where the only bridge and way to cross the Lys had been destroyed.
The Saint made a pact with the Devil: Satan would build a new bridge in one night, but in exchange, he wanted the soul of the first living being who would cross it. The following day, Saint Martin freed a dog on the bridge, thus saving the whole town citizens.
The Pont-Saint-Martin Carnival first edition was celebrated in 1902, and its program hasn't changed since 1910.
For a week, Saint Martin, Satan, the Roman Consul, the Lys Nymph, her Handmaids, the Tribunes of the People and the Roman Guards come back to life and parade through the streets of the Old Town.
The program includes torchlight walks, processions, music and dance shows, theatre performances, firework shows, mask contests, allegorical float parades, folklore, and so much more. The Carnival ends with the burning of the Devil under the Roman bridge he supposedly built.
During the Carnival,  the protagonists are also the typical dishes, and a local delicacy is served every day at lunch along the streets!
The last day, the Ash-Wednesday, the first day of Lent, a lunch with "Polenta e Mërluss" (polenta and codsteak) is served (reservation and payment are required). This is a chance to spend time with the friends with whom  the Carnival has been celebrated.
(photos: event's official website)
ARE YOU IN VALLE D'AOSTA?
Discover the traditional food and wines of the Valley>>>
DO YOU LIKE CARNIVALS?
See a selection of further Carnival events in italy>>>
More Information >>>