Barcolana – Trieste
September 30th-October 8th,2023. The largest sailing regatta in the world. Collateral events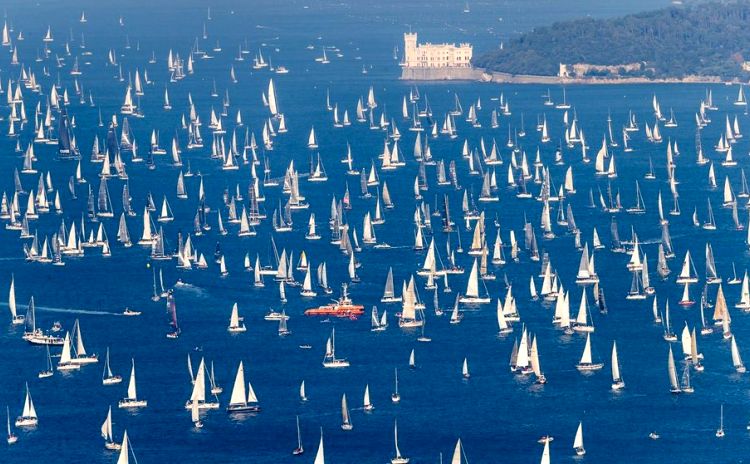 From September 30th to October 8th, 2023 is the "Barcolana week", the sailing regatta that has been in the Guinness World Records since 2018 as the largest regatta in the world: 2689 boats registered.
Now Barcolana reached its 55th edition and it is an event known all over the world and the biggest event for the city of Trieste.
The regatta and the participants
The Barcolana is held every year on the second Sunday of October in the Gulf of Trieste, between Miramare Castle and the stretch of sea in front of Piazza Unità d'Italia.
Its particular formula makes it a unique event in the international sailing scene: from the same starting line professional sailors and simple enthusiasts compete side by side on the most various boats, racing machines and simple family yachts, divided into categories according to length.
The first edition (1969) was attended by 51 boats from the Trieste sailing clubs.
Then, over the years many great names in the international sailing wanted to participate such as Paul Cayard, Ben Ainslie, Russell Coutts, James Spithill, Dean Barker, Vasilij Žbogar, Brad Butterwort and Jochen Schümann and great Italian sailors such as Cino Ricci, Mauro Pelaschier, Luca Devoti, Giorgio Gorla, Massimiliano Sirena, Francesco de Angelis, Vasco Vascotto.
And also sportsmen from other disciplines and well-known personalities such as Tina Maze, Zvonimir Boban, Kristian Ghedina, Andrea Lo Cicero, Primož Roglič, Ranieri III of Monaco, Deborah Compagnoni.
An increasingly important event
Every year about 25,000 sailors take part in the Barcolana and the public exceeds 300,000 people following the regatta both from the shores of Trieste and from the high ground of the Carso.
To highlight the importance that the Barcolana has assumed over the years, it is enough to say that the Amerigo Vespucci, the Navy's training ship, took part in the 50th edition (2018) and the starting line of the regatta was flown over by the Frecce Tricolori, the aerobatic team of the Italian Air Force.
Route
The regatta takes place on a course of about 15 miles with fixed vertices, a quadrilateral with a starting line set between the Miramare Castle and the headquarters of the Sailing Company of Barcola and Grignano, and the finish line in the stretch of sea in front of Piazza Unità of Italy in Trieste.
Side events
Although the regatta is held on Sunday morning, the organization has expanded to include a series of events on the sea and in the city for the previous ten days.
In recent years there have been several regattas for young people, vintage boats, and also a swimming challenge…
INFORMATION
For information about the program, go to the website>>>
For regatta registration procedures send an email>>>
See the Facebook page of the event>>>
AND AFTER THE EVENT?
See a selection of  further events or places to visit in Friuli Venezia Giulia>>>
Discover also the traditional food of the region>>> and its excellent wines >>>
More Information >>>