Friuli-Venezia Giulia – Territory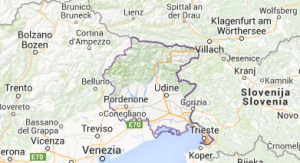 Friuli Venezia Giulia, even if it covers an area of 7,855 sq km (is one of the smallest regions of Italy), contains very different landscapes. It is surrounded by the beautiful mountains of the Eastern Dolomites, the territory of Carnia and the Julian Alps. The coast on the Adriatic Sea is also very diverse with its lagunas, rocky passages and sandy beaches.
The territory offers many possibilities to do different activities in the nature: skiing, snowboarding, climbing, ice skating, hiking, walking or mountain biking in protected areas such as the Reserve of the Cavanata Valley, also perfect for birdwatching, and more: the marine Reserve of Miramare (seawatching) and the hills of Carnia ideal for horseback rides.
Many historical and cultural places can be visited such as some important places of World War I: between the Carso caves and the shores of the Tagliamento you can still see the remains of forts, galleries and other evidence of the conflict.
REGIONAL PARKS IN FRIULI VENEZIA GIULIA:
The Italian Regional Parks are land, river, lake, and sea areas facing the coast. Their value is being like a system including the nature of the places, art, ​​and cultural traditions of the local inhabitants. The Italian Regional Parks are more than 150 and cover an area of ​​approximately 1million and 500,000 hectares.
Dolomiti Friulane Regional Park
Prealpi Giulie Regional Park

NATURE RESERVES IN FRIULI VENEZIA GIULIA:
Nature Reserves, also called Protected Natural Areas or Natural Oasis, their mission is to maintain their "equilibrium" by conserving and increasing biodiversity. These areas are characterized by heterogeneous landscapes and they are home to different species of animals and plants. They are the animal's shelter for reproduction.  Hunting is prohibited. Actually Protected Natural Areas in Italy are more than 145
In the Province of Udine:
Cucco Nature Reserve
Rio Bianco Nature Reserve

MARINE PROTECTED AREAS IN FRIULI VENEZIA GIULIA:
Marine Protected Areas or Marine Reserves are stretches of the sea where sport fishing, professional fishing, scuba diving, the entry with motorboats, motorcycles, cars are prohibited or limited. And the abandonment of waste on the beaches is severely punished. The typology of these areas varies according to the protection constraints. There are more than 25 Italian Marine Protected Areas, covering an area of ​​approximately 222,442 hectares of sea

UNESCO BIOSPHERE RESERVES IN FRIULI VENEZIA GIULIA:
The Unesco Biosphere Reserves are areas representing important land, sea, coast ecosystems in which the conservation of its biodiversity is associated with the sustainable use of natural resources for the benefit of local communities. The worldwide network of Biosphere Reserves includes 669 reserves in 120 countries on five continents, of which 16 Biosphere Reserves in Italy

WWF NATURE RESERVES IN FRIULI VENEZIA GIULIA:
The WWF Oases are the first Italian network of protected areas managed by a private association. WWF activities in the Oases range from ecotourism to nature holidays, education, training, and environmental information programs. There are more than 100 WWF Oases in Italy, covering more than 30,000 hectares of land in 18 regions. They are visited by more than 500,000 people a year.
In the Province of Trieste:
Miramare

BLUE FLAGS IN FRIULI VENEZIA GIULIA:
Blue Flag is an International recognition reserved for lakes or seaside tourist resorts that comply with sustainable land management criteria. The Blue Flag is awarded annually by the non-governmental and non-profit organization "Foundation for Environmental Education" (FEE). Only the localities whose waters have been excellent in the previous season can apply. In 2020, more than 195 municipalities and over 407 Italian beaches have been awarded as "Blue Flag".
In the Province of Gorizia:
Grado – spiaggia principale, Costa Azzurra, Pineta
In the Province of Udine:
Lignano Sabbiadoro – lido

ORANGE FLAGS IN FRIULI VENEZIA GIULIA:
Orange Flag is a tourism-environmental quality mark awarded by the Italian Touring Club to small towns in the Italian inland (maximum 15,000 inhabitants) which stand out for their quality hospitality. The Orange Flag has been awarded to over 200 Italian municipalities.
In the Province of Pordenone:
Maniago
In the Province of Udine:
Cividale del Friuli