National Befana Day – Urbania
4-5-6 January. In her official home, the Befana brings happiness to young and old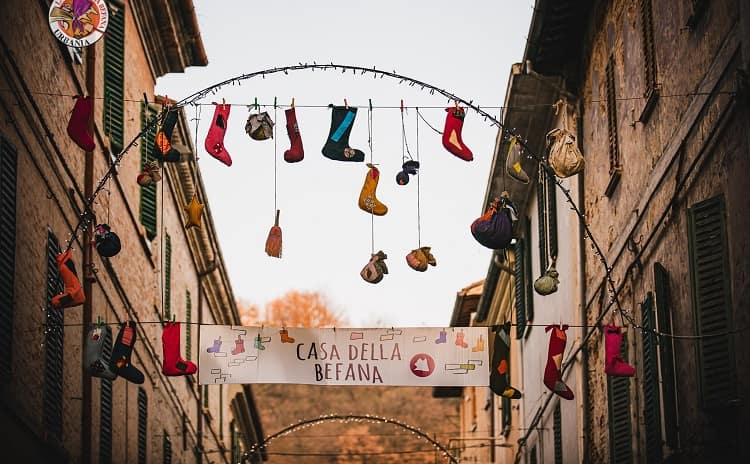 On January 4th, 5th, and 6th, 2023, is taking place in Urbania, the ancient Casteldurante, the 26th edition of the National Befana Day
At National Befana Day, like every year, the Befana descends from the bell tower and lands in the square delivering sweets and candies among a blaze of lights and music.
In the Befana Post Office, children can write their own letters with the help of the vice-witches who then sit around the fire and tell fairy tales.
And there is also the Befana House, located right under the town hall, where the old woman lives all year round. Here visitors can see the cauldron where she makes her potions, the collection of games, the parking lot of her flying broom and the bed where she rests after flying all day.
In the streets of the city, children can also see the longest Befana Sock in the world, made every year by the witches of Urbania.
In these days the Befana also turns Urbania into a "tasteful city" in Chocolate square with chocolate, candies, cotton candy and sweet snacks, and Ristobefana, with many local specialties including Crostolo d'Urbania, her favorite snack.
During these three days the key to the city is also entrusted by the Mayor to the Befana to emphasize that from January 4th to 6th she is the undisputed queen of the event.
We recommend always checking on the website or on the facebook page for any changes to the program.
URBANIA
Urbania is a small city 18 km away from Urbino.
In the past, it was called Casteldurante, but in 1636 was renamed Urbania in honor of Pope Urban VIII who in that year recognized Urbania as Bishopric
Photo from the official site
More Information >>>