Truffle Fairs in Piedmont
From October to December. All Truffle fairs in Piedmont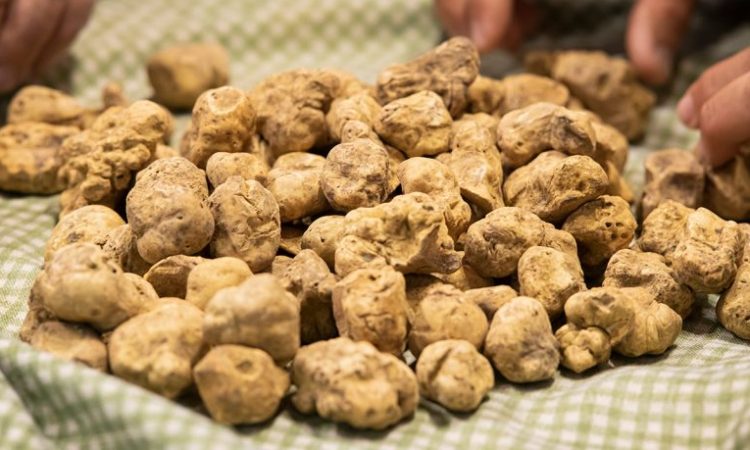 The truffle grows spontaneously in all Italian regions and is celebrated in several gastronomic traditions, but only some regions have developed a system of fairs and festivals to celebrate it.
Piedmont is the Italian region where the truffle culture is traditionally more developed. There are many different events such as festivals, fairs and feasts in which truffles are sold, tasted and discussed in workshops.
The truffle varieties in Piedmont
Among the 9 truffle species considered to be more interesting as food, the white one is the most refined and it is considered everywhere the king of the table. In Piedmont all the other 8 species are also diffused.
If someone wants to try the experience (and the emotion) of the wild truffle hunt, see where you can find them >>>
Piedmont is the only region where truffle hunting at night is allowed, because the dog is less disturbed and, by ancient tradition, because the darkness protects the "trifolau" from curious eyes.
Alba (in the province of Cuneo) is home to the oldest and most important truffle fair in Italy and one of the first in the world: the International Alba White Truffle Fair which is held from October to December and represents a very important event for the city with a huge turnover.
It also combines high-level food and wine with important cultural and musical events. During all the weekends of the Fair, national and international chefs and local chefs alternate with presentations of recipes and cooking shows.
The truffle fairs in Piedmont
Here below there is a calendar of truffle fairs and festivals in Piedmont from October to December.
Keep in mind that some events may have been postponed or canceled due to organizational difficulties in this anomalous year.
For participation, we recommend always to check.
REGIONAL TRUFFLE FAIR – Montiglio Monferrato (AT)
3 and 10 October 2021
TUFO & TRUFFLE FAIR Odalengo Piccolo (AL)
9-10 October 2021
TRUFFLE MARKET EXHIBITION FAIR – Bergamasco (AL)
10 October 2021
NATIONAL TRUFFLE AND LOCAL PRODUCTS FAIR – Mombercelli (AT)
16-17 October 2021
TRUFFLE FAIR – Trisobbio (AL)
24 October 2021
TRUFFLE FAIR – Moncalvo (AT)
24 and 31 October 2021 – 67th edition – go to the website>>>
TRUFFLE FESTIVAL – Sardigliano (AL)
31 October 2021
TRUFFLE FAIR Peccati di Gola 2021 Mondovì (CN)
30 October – 1 November  2021
NATIONAL TRUFFLE FAIR – TRIFOLA DʻOR – Murisengo (AL)
14 November 2021 – go to the website>>>
WHITE TRUFFLE FAIR IN GHENZA VALLEY  Cella Monte (AL)
6-7 November 2021
TRUFFLE AND CARDO GOBBO DAY – Nizza Monferrato (AT)
7 November 2021
REGIONAL TRUFFLE FAIR – San Damiano dʻAsti (AT)
7-8 November 2021
SAN BAUDOLINO FAIR – TRUFFLE EXHIBITION – Alessandria (AL)
7 November 2021
NATIONAL FAIR OF THE WHITE TRUFFLE OF MONFERRATO – Montechiaro dʻAsti (AT)
7 November 2021
SUMMER OF SAN MARTINO – TRUFFLE FAIR OF ALTA LANGA AND CEBANO – Paroldo (CN)
12-14 November 2021
EXHIBITION OF THE WHITE TRUFFLE MARKET OF THE TURIN HILLS – Rivalba (TO)
14 November 2021 – 34th edition – go to the website>>>
REGIONAL FAIR OF WHITE TRUFFLE AND ROERO WINES – Vezza dʻAlba (CN)
12-21 November 2021
REGIONAL TRUFFLE FAIR – Canelli (AL)
21 Novembre 2021
NATIONAL FAIR OF BLACK AND WHITE TRUFFLES – San Sebastiano Curone (AL)
From 21 to 28 November 2021 – go to the website>>>
ACQUI AND FLAVORS – REGIONAL TRUFFLE EXHIBITION – Acqui Terme (AL)
27-28 November 2021 – see the facebook page of the event>>>
TRUFFLE FAIR – Asti (AT)
27-28 November 2021
TRUFFLE FAIR – Montegrosso d'Asti (AT)
27-28 November 2021
TRUFFLE FAIR – Castelnuovo Don Bosco (AT)
28 November 2021
ALBA WHITE TRUFFLE INTERNATIONAL FAIR – Alba (CN)
on the weekends from 9 October to 5 December 2021 – 91st edition – go to the website>>>
MONFERRATO WHITE TRUFFLE FAIR – Cortazzone (AT)
5 December 2021
cover photo from the website of Alba White Truffle Fair