Barrel Race "Bravìo delle Botti" – Montepulciano
18-27 August 2023. Challenge between the eight Montepulciano districts.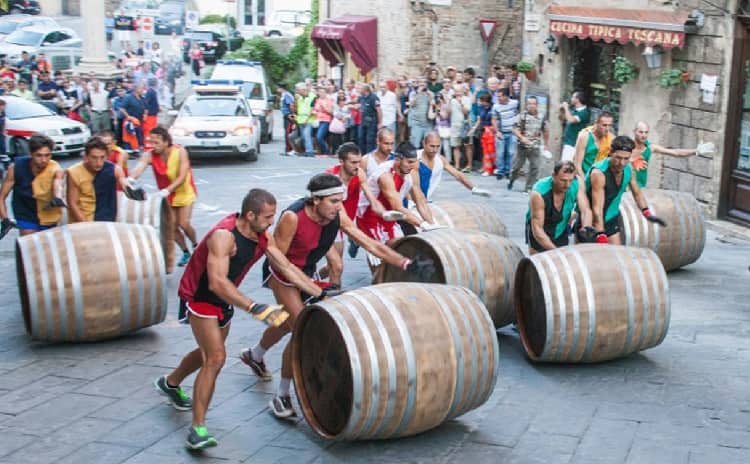 From August 18th to 27th, 2023  Montepulciano hosts events culminating the last Sunday of August with the traditional "Bravio delle Botti", (a barrel race) arrived this year at its 49th edition.
The week of festivities is the week of work-out for the final race which is a challenge between the 8 Montepulciano districts, once competing with horses and today with barrels.
People interested in following the feast can attend from Monday at night trials of the barrel pushers, and on Thursday at the evocative Candles' Procession of the Candles.
During the week the town is animated by food and wine stands and various entertainments.
On the last Sunday, the dispute begins with the extraction of the starting positions.  Subsequently, the standard-bearers and reenactors of every district, more than 300 in total, leave the Municipal Building, so that the barrel fire branding and the banner waving can begin on the parvis of the Cathedral.
The barrels, which weigh is about 80 kg each, are rolled by two athletes for each district, the so-called "spingitori" (pushers) along with an uphill slope and through the fascinating roads of the historical center. The arrival of the Barrel Race is in front of the Cathedral, in Piazza Grande.
The history of the Bravìo dates back to the end of the XIV century, specifically to 1373, when the Municipal Statute determined the Palio (prize) rules. The Bravio delle Botti seems to have been established in honor of San Giovanni Decollato, patron saint of Montepulciano, celebrated on August 29th.
The Bravìo horse race occurred until the XVII century and was abolished for public order reasons.
The recent history of the Bravio starts in 1974 when Father Marcello Del Balio had the idea of transforming the old horse race into a barrel race.
In 2011, the Bravio delle Botti in Montepulciano was recognized by the Italian Tourism Ministry as one event better representing and promoting local history and traditions, giving value to the Italian artistic, cultural and historical heritage.
INFORMAZIONI
Bravìo delle Botti
Tel. +39 0578 757575 or send an email>>>
See the website>>>
See also the Facebook page>>>
Will you go to Tuscany?
See a selection of further events or places to visit in the region>>>
What to eat after the race? Traditional Tuscany dishes and wines>>>
Photo source: Bravìo delle Botti

More Information >>>