Feast of San Cassiano and Badoche – La Salle
On August 13th La Salle (Aosta) celebrates in August its Patron Saint. Typical dance Badoche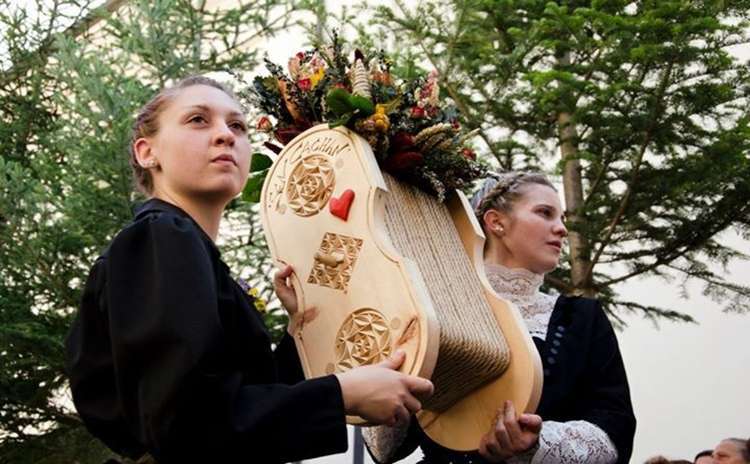 On August 13th  La Salle (Aosta) traditionally celebrates the Feast of San Cassiano and Badoche in honour of its Patron Saint San Cassiano with religious ceremonies and the folkloristic dance called Badoche
The dance "Badoche"  origin seems to date back to the initialize rituals of Celts. The main characters are unmarried young women and men, dressed traditionally. The first "Badocher", leading the group, carries a dish adorned with flowers and ribbons, and a dessert or an apple in its center, to collect offers. Another "Badocher" carries the traditional halberd, a stick adorned with flowers and colored ribbons, a symbol of power.
Badoche brings happiness and the music of the accordions in every house announcing the start of the feast and collecting offers for it. During the Patron's day, the "badochers" and the visitors dances according to the tradition in the main square. A pavilion hosts a restaurant (with typical regional dishes), and a dance hall.
The day before the saint's day, the Badoche brings happiness and music by the accordions in all of the houses of the town announcing the beginning of the celebration ad collecting the offerings for it. In San Cassiano's feast people, invited by the Badoche, celebrate with traditional dances at the main square according to a well-defined sequence. The patron feasts are then completed by the restaurant pavilion that offers typical plates of Valle d'Aosta tradition and a dance pavilion.
Everybody dances the Badoche dance, even the Mayor!
INFORMATION
Comune di La Salle
Tel. 3+39 20 375 5037
Vedi anche la pagina Facebook del comune>>>
AND AFTER THE FEAST?
See other events and places to visit in Aosta Valley>>>
And why not try the traditional food of Aosta Valley>>>