Parmigiano Reggiano Museum – Soragna
The history and production of the most famous Italian cheese in the world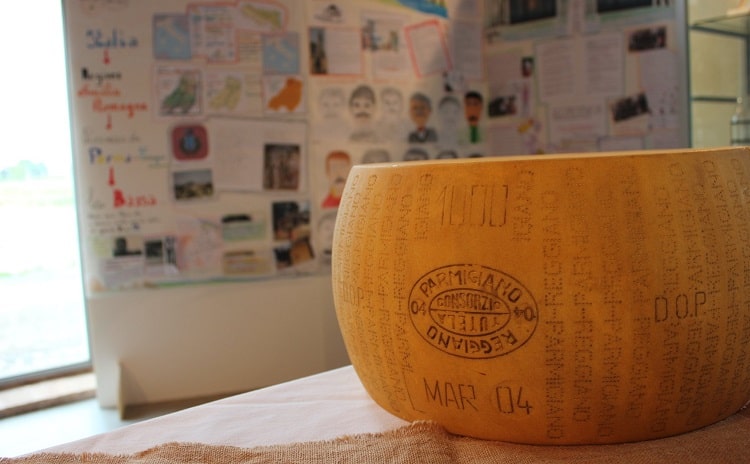 The Parmigiano Reggiano cheese is the best known, the most prestigious, the most imitated Italian cheese appreciated all over the world. That's why it deserves also a museum in Corte del Castello Castellazzi – Soragna, in the Province of Parma, an area full of ​​castles, natural oases, historical parks, and composer Verdi memories.
The building was an ancient dairy used for the production of cheese for centuries. It includes the farmhouse with a stable, barn and the important circular dairy with a colonnade that today hosts the tools and equipment used in the processing of the King of Cheeses.
The Parmesan cheese is made from cow's milk with the sole addition of rennet and whey-graft; it is cooked in boilers without adding additives or preservatives, and finally deposited in special molds that give it its special round shape. The wheels are then immersed in a tank of saltwater and finally aged for a minimum of 12 months to 36 and even more.
The museum illustrates the story of the production of Parmigiano-Reggiano cheese. Over 120 objects and a hundred images, drawings and vintage photos are on display explaining the evolution of milk processing techniques, the stages of maturation… The materials and objects are dated between the nineteenth century and the first half of the twentieth century, and they have been collected in peasant houses and dairies in the traditional production area of ​​Parmigiano-Reggiano, the 5 provinces of Parma, Reggio Emilia, Modena, Bologna. west of the Reno and Mantua south of the Po.
The visit goes through the oldest part of the building, the underground salt room, and the raised room, divided into eighteen thematic sections.
The whole production of cheese is illustrated, starting from the arrival of the milk in the dairy, the production process, the aging of the wheels, cultural and gastronomic aspects
A section is also describing the history of the venue
Next to the main museum, some rustic buildings expose tools and everyday objects of the peasant civilization related to food issues.
The visit ends at the Museum Shop where visitors conclude their experience into an ancient art that is still hand-made tasting the very Italian Parmigiano Reggiano.
USEFUL INFORMATION
– open from March to early December
– go to the website to see the opening days and hours>>>
– from December to February open only by reservation for groups
Entrance with a fee
It is recommended to wear a safety mask and to keep an interpersonal distance of at least 1 meter.
——
Food Museums in the province of Parma
Parmigiano Reggiano Museum is part of the "Food Museums" circuit of the province of Parma, dedicated to typical local products. It also includes:
– Pasta Museum in Giarola di Collecchio
– Tomato Museum in Giarola di Collecchio
– Wine Museum in Sala Baganza
– Felino Salami Museum in Felino
– Parma Ham Museum in Langhirano
– Culatello di Zibello and Masalen Museum in Polesine Parmense
– Porcino Mushroom Museum of Borgotaro in Borgo Val di Taro
(photos from the Facebook page of the Food Museums)
More Information >>>